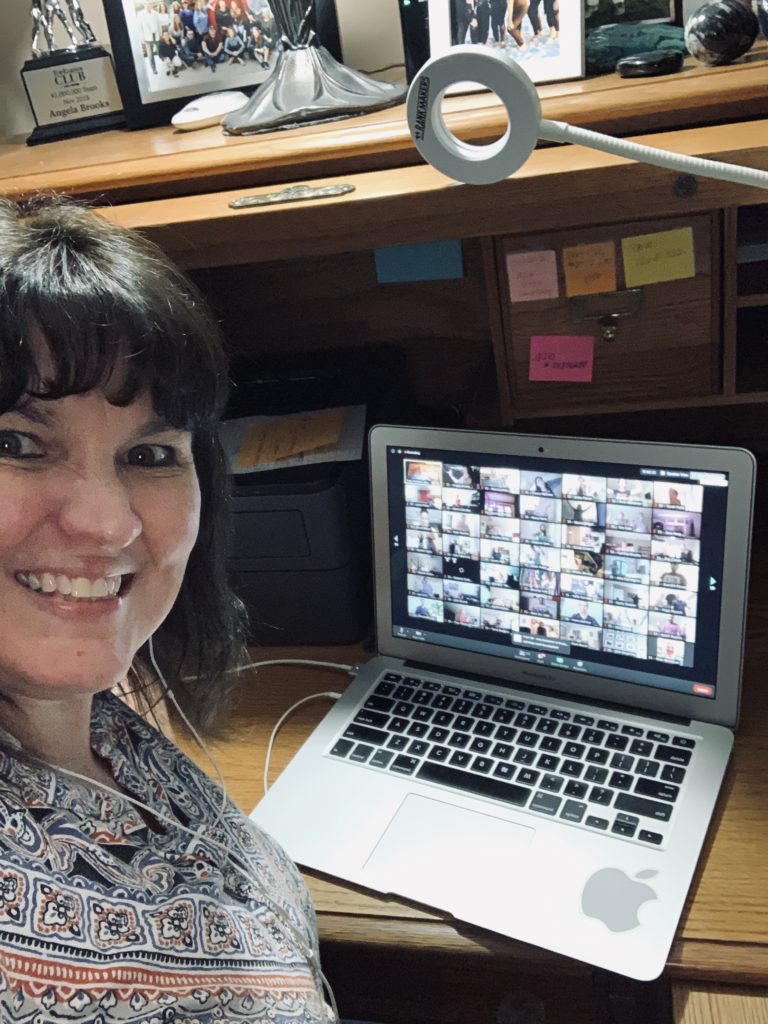 After any event, I attend it normally takes me a few days to really digest what all I learned and go over the notes I took. Google all the people that spoke and really soak it in.

I spent 4 days with over 22,000 + people on a virtual "Unleash the Potential" event, the event Tony Robbins normally has only done in person with fire walking. Actually this was his first virtual event in 43 years.

Since March he built a 4-million-dollar virtual arena with 16 feet screens that go 180 degrees around. It was the largest zoom meeting ever put in action and I was so excited to be one of the first. In January he said his goal is to have an event with 1 million people at one time.

Yes – I plan to be there.

It was nice to not have to fly to the event, pay for a hotel, eat food that always bothers me and feel exhausted after being around so many people. It was perfect for me – however – I miss meeting people in person and having new connections.

We have developed two groups for the people that were in our zoom room and the one for the event remains open to connect.

I hopped in the masterclass this morning and gave a tip on how to use those connections and a new group to grow my own connections and how to respond inside those groups as the influencing person.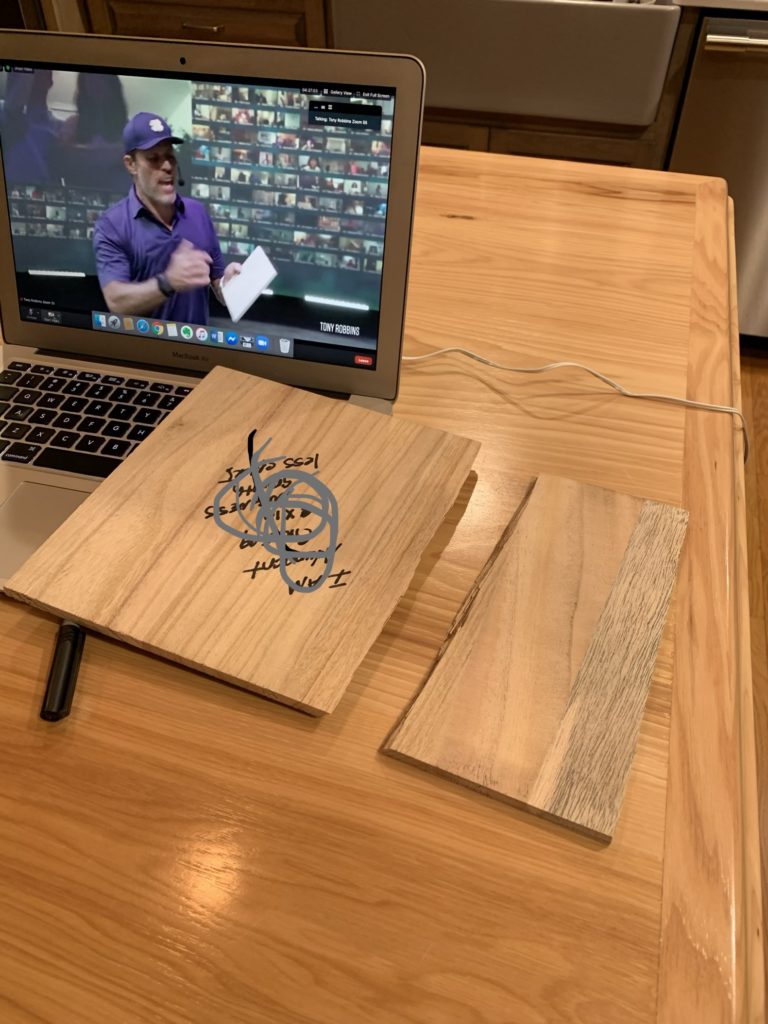 Instead of firewalking, we broke boards with our hands. I know that doesn't sound like a big deal but I am living in the same house around the same people doing the same work but today…
I am different.
What I do know is that you cannot create a new world while living in the vibration of the old.
If people would turn loose of being perfect, knowing how everything turns out, moving forward instead of waiting so much talent would be exposed to the world that needs what you have to offer.
If you follow me on Twitter https://twitter.com/angelabrooks You will see I used the hashtag #UMW for some of my quotes I didn't want to forget. Which means I totally screwed up my hashtags!
It should have been #UPW – [Smacking myself in the forehead!!] I retweeted some of them but geez I was taking notes so fast I didn't see the error until I went to share the link to the notes.
https://twitter.com/hashtag/UMWVirtual?src=hashtag_click
Prime your day
Getting Primed has a new meaning for me. In those 4 days, we danced, jumped and meditated – a lot. We screamed YES priming our body for a new "state" and how easy it is to fall out of our prime once we get back to the daily routine.

Watch his video 10 minutes of priming

Tony talked in details of how important it is to live in a beautiful state and how to stay in it when things around us aren't going as planned. We control our own happiness and when we allow outside circumstances that we cannot control dictate whether we are happy or not.

✔Everything is a decision. You get to decide on being happy or not.
✔You decide you are going to build your business… or not
✔You decide you are going to be better and learn how to grow…or not

➡ Either way… it is a decision that you made.

I am always looking for those that want to unleash their life to be something more. I don't beg, pled or push. I walk beside them and help them grow.
#1 hold back for almost anyone who doesn't move forward is fear.
Fear alone can destroy our psychology and immobilize us from taking action. All of the experience fear and in some context during our life. Fear is hardwired into us humans being. The secret is learning how to use our fear instead of it using us.
I will be spending some time in the Masterclass talking about my notes and how they can change their life to be in a prime state as well.
Join me in the Masterclass. Let's shift your energy to grow and what they gut feeling is saying to you.
Some powerful statements from Tony
1. When you are focused on what you aren't getting you lose sight of what you could be giving. What a powerful thought.

2. Life doesn't happen TO you, it happens FOR you. All the rough things that have happened in my life made me who I am today. If things happened any other way I would not be who I am. I am grateful for the people who walked away and didn't support me

3. Most people have a limit to their hunger. They reach a certain rank or place and life and think that is where they have to stay.

4. It's NOT a lack of resources that ever stops you, it is a lack of resourcefulness. The way we can connect today there is no excuse for not learning what you need to learn.
5. Your emotions are like muscles and the ones you use the most become the strongest and the ones you use the least shrink.
6. The thing that prevents you from getting anything you want is your story of why you don't have it.

This one is HUGE for me!

What story are you telling…when someone mentions your past do you jump on the opportunity to tell something hurtful that happened to you like you are wearing the pain like a badge of honor or are you looking at it as your excuse to not succeed?

WHOA, that was a huge eye-opener. Stop saying it. Stop talking about it. Give it gratitude that it pushed you to a new place. Life doesn't happen TO you, it happens FOR you. If my ex did not walk all over me I would have stayed and not packed up and left our brand new home or walked out with a small baby.

Had my supervisor at my job been the best of the best. I would have stayed because of how she treated me, instead I left because of how she treated me.

Flip the switch on how you look at things, it will clear the fog away from your eyes.

I can help you start a business [ watch the video ]
I can teach you what I know [masterclass]

I can show where to learn the basics of online marketing [ Learn more ]
I can't do it for you.
---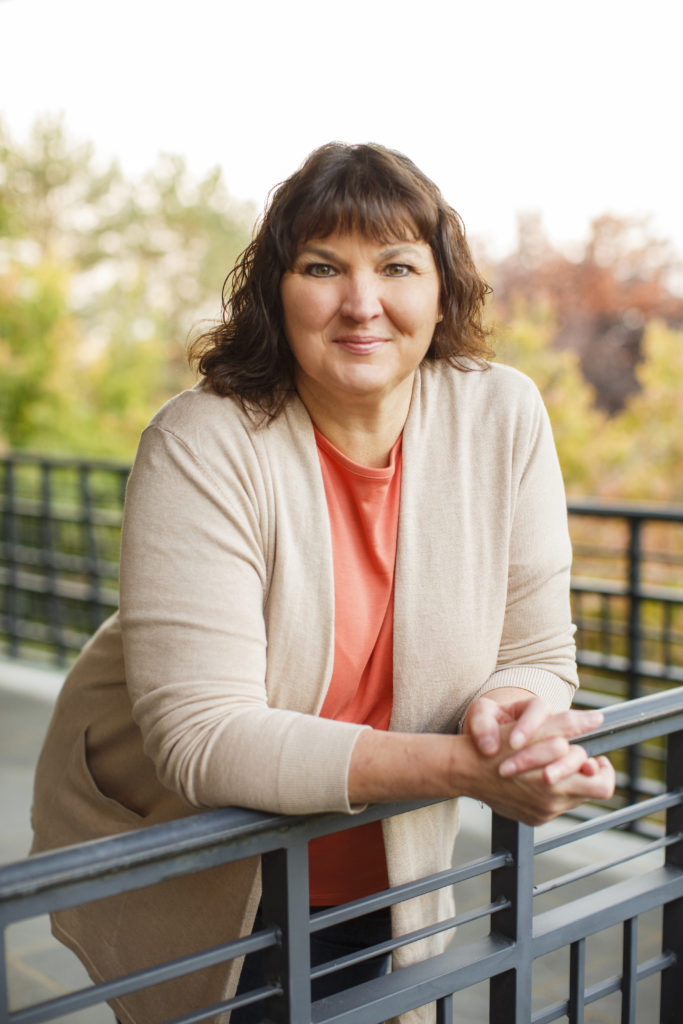 My name is Angela Brooks I'm from Kentucky, a mama who built a big business part-time on my lunch break blogging, using social media power hours. <Link to learn more>

After a rewarding 30+ year career in healthcare as a nurse, it was time to transition my lifestyle to one I had more control of. Burnout is very real. Decades of budget cuts, staff reductions and stagnant wages have resulted in a profession that is grossly overworked and under-compensated. I created a lifestyle that allows me FREEDOM that I had not known before. I expect miracles to show up in my business because of the seeds I plant and how I water them. I expect them for you too.
== Subscribe to the email newsletter ==
This post may contain affiliate links, which means we may receive a commission if you click a link and purchase something that we have recommended.
Please follow and like us: