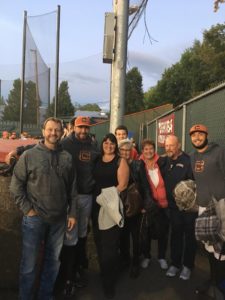 This picture was taken in Washington State in 2018 when we flew across the country to surprise my son for his 22nd birthday.

He was living in Washington for the summer playing baseball with a travel team that has recruited him as one of their closing pitchers. He lived with a family of one of the baseball players he played with in college.

They are now part of our family and the this trip had so much meaning to it that really touches the emotions of this mama.
This trip for our entire family would not be possible without my business.

When he started college I was still working full time at a psychiatric hospital where I had worked for 25yrs. As a college baseball pitcher they are only on the mound 1-2 days a week in a game.
I got a call and he was so excited and nervous he said: "Mom they said I will be pitching Friday will you and dad be able to come?" Without hesitation, I said, "We will be there."

I went to my supervisor and put in to leave for the game an hour early from work. Her response cut me to my core. She said, "No you can't leave early because I am." There was two of us in the department and we had nothing to do the last hour on Fridays other than clean up and organize.

I went to the next supervisor and got the hour approved and hit to road.
That NO was my defining moment. I can still feel the anger that boiled under my skin and can feel my ears turn red. I can still see the satisfaction of her "power decision" on her face.

My business had grown to the point it had replaced my 30 years of nursing income. I still enjoyed working at my job – until – she told me no I couldn't go watch my son pitch his first game in college. A moment we had strived for 13 years, a once in a lifetime moment. I was not going to miss that.

90 days from that moment I made the decision to retire from nursing. I handed in my two weeks notice. My hands were shaking, my palms were sweating, and it felt like I was waiting for someone to tell me no I could not retire.

I had worked for someone else since the age of 14 and was about to step out on my own to work from home. I was excited, nervous and I felt lost all at the same time.
Fast forward to the day I called the airlines bought the tickets for 5 people, made hotel reservations for 5 days and prepared for the best surprise trip ever for his birthday made me feel so grateful that she told me no. I wanted something more than just a daily routine and worked until it happened.
Business is not for everyone.
Being a customer can be.
People think they have to turn creepy to be in business. I ask people to just be themselves. Talk about what they love like if they saw a good movie or read a good book. The only difference is you do it more often.
This may not be for you and that is ok. You may know someone that would be a good fit. Watch the video on this page.
It will show you how other people like yourself influence people from around the world. https://angelabrook.com/Discover
What you focus on appears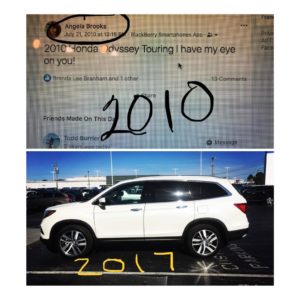 I had my eye on a Honda Touring Pilot for a long time wishing I could own one of those cars. I stopped by and looked at the often, drove one and kept focusing on "one day".

In 2017 I drove to the dealer and came home with a 2017 Honda Touring Pilot and paid it off in less than 2 years. It also became a business expense for my business.
Why am I telling you about my car?
Because in July 2010 I was still working full-time in the hospital and I had not started my business yet. I got started with my current company in November 2010.
Since that day life began shifting. I am not looking for people to be weird or start wearing a suit and tie to run everyone around you away. Some people only want to take care of their health and I get to help people do that.
I have watched people buy homes, cars, send their kids to private schools, get out of debt, add a part-time income to their checking account that allowed them to stop working the 2nd job. All because my supervisor told me no and set me on a different path.
Step one is simple
Simply watch the video today. https://angelabrook.com/Discover
Please follow and like us: