This past weekend I spoke at a conference where only about a dozen people raised their hands when I ask …
"Do you use LinkedIn in your business?"
Not only did they not understand what it could mean for your business they didn't understand the power of the profile and where to put their finger on the pulse of LinkedIn.
People still look at LinkedIn as a place to look for jobs and resumes.
It is…
but it is so much more.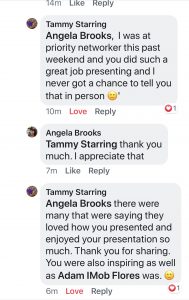 Those people are looking for jobs are also looking for money. Most people are programmed to think money only comes from a job. You can have BOTH! Finding people who are motivated to make money, stay in it to win it and are willing to learn what they don't know.
There are people out there looking for YOU…and what you have to offer is going to be perfect for them to grab hold of and run to the finish line.
It is our job to go find them and let them know HERE I AM! I have what you need.

This morning I showed a school teacher how she could get started so she could stop spending so many of her afternoons tutoring students.
Yesterday a nurse who found me on LinkedIn was working three overtime shifts a week on top of her normal 3 – 12-hour shifts.


No one has to work a business full time. Neither do they want to work a job 80 hours a week
The school teacher needed less than $800 to cover a bill.
The nurse wanted to do something other than spend all of her time under the roof of the hospital.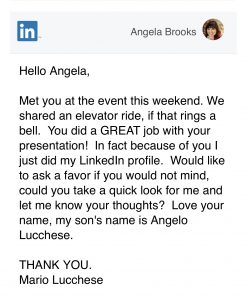 Last weekend in less than 45 mins (that was my speaking time limit) they saw a new way to build their business without being spammy Sammy.
I have 4 hours of training showing you my screen.
Showing you where to put your finger on the wrist of LinkedIn to feel the pulse.
How to get people talking to you and where to locate the people who are looking at you but not talking.
OHhhh that alone is so so good.
Everything in business is not on Facebook
Grab the course, get in front of the crowd that has no clue where the magic is on the platform and let me show you what you are missing and how you can shift your connections

https://angelabrook.com/the-pulse-of-linkedin