Have you ever had a mentor that was outstanding? That knew all the ends and out and could recite the rules without even glancing at their notes?
They could do training after training for their team without so much as a nugget of help from others. You can call this person and have one on one conversation with a single dial to their private number.
We all know that trainer in network marketing. There is nothing wrong with that person's skill at all. Actually, it is freaking amazing.
The problem is… it is not duplicatable.
In network marketing, you want to raise up a team who are independent and respects your time but also knows they can depend on you if needed. You should always be pointing to resources to help them find the answer to their questions. Otherwise, you will spend hours talking to one person and that is not duplicatable.
To become a top leader that is duplicatable record all your calls and post them on a blog. Post them so that you can direct people to them down the road so you are not repeating yourself over and over.
In the process, you are saving content for your team to have access too but you are also teaching by example.
People don't need more instructions they need someone to lead as an example. People can follow your lead but you have to show the way.
Anytime you are standing on a stage, or speaking to a group of people it should be recorded or videoed to be used on a blog as saved content for future training. No one likes to repeat the same sentence over and over. Point your team in the right direction to give them the best of you and your time.
It also teaches them they don't have to know it all – they need to know where and how to lead their team to good resources.
Watch this periscope and leave your comments below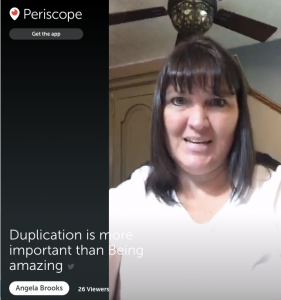 Angela Brooks
Facebook
Twitter
PS: If you liked today's post and you gained some value from it. I would appreciate if you shared it with your readers using the social buttons below. Drop me a comment on what was the most value for you.