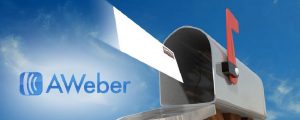 As a blogger,  I am the writer, the first promoter and the thought leader of my content. Blogging takes time to build, and it takes time to build a community that follows your post.
At the same time you are writing your blog post you are also looking for new eyeballs to get on your free offer to add them to your email newsletter list.
I have had marketers who are making $20,000 a  month tell me they don't have a list or a blog. They totally depend on the company they are within network marketing's website to be in contact with their downline and customers. To be rather honest it is a dumb move.
Why? Because those names are on that companies email list, not yours. You may have generated them and get paid a commission for what they do but if they close your website you have no way to get back in touch with those people.
Building your own list gives you control in your business that you want to have. I started  Aweber list back in 2010. As I grew I had a business coach who told me I needed a bigger system to run my products through. I trusted her. Not only did it cost me $2000 – it was a hot mess for me. It was too big and I could not run it myself. I needed to hire someone who could design the inside.
What I needed was:
Increased Readership
Promotion of Posts
Build Community
Improve Your Blog
Drive Sales
Email is familiar and Easy to Use
Aweber had all those things and more…. excellent customer service. I trust them enough that I added them to my resource page to refer to others who come to my blog.
When I write a blog post – like this one – it will be emailed out to my list. People ask why would I email my blog post to my list. Because they may be on my list, but don't visit the blog often, I also send it out to Facebook, Twitter, Google+, LinkedIn, and StumbledUpon to get it out into the internet reading world. It is part of my blogging job to get the message in front of my community, and my list is the first place I start.
You may ask why Aweber? Because of what they offer for a low starting cost and actually, you get a 30-day free trial to take a look inside. You get the full view to playing with until your heart is content
What you get with  Aweber
1.Unlimited lists in the one account – some providers charge per list.
2. Unlimited emails – some services charge per email that you send. I can send as many as I want each month to as many lists as I want.
3. Autoresponders – put together a sequence of emails that you want to send readers so that when they sign up for a mini course they get them sent out in an order and timing that you choose.
4. Deliverability – this was a big one for me. Using a last free service you will get very high numbers of bounced emails and emails being labeled as spam. It's not unusual to see 20-30% of my emails not even getting delivered.
5. Text and HTML Emails –
6. Analytics – AWeber has more ways to track the activity of your subscriber's use of your newsletter. You track which links in your newsletter get clicked.
7. Did I mention great customer service? They will help you transfer your list from another service, they will help you learn how to send out your emails with them. Not once have I called and they not helped me on the spot.
Your Newsletter
A newsletter is the core of your business as a blogger. Your community is looking forward to your information and that is why they signed up for your offer. I can't afford to have a glitchy service or one that doesn't get my emails in front of the eyeballs. To be honest, another reason for a paid service,  when I have an issue I want to be able to pick up the phone and tell someone else the problem and they fix it not me.
Business has cost to it, but I didn't want my email list to one of those costs that I paid and paid and paid for. I wanted results, easy, great service, and with Aweber, those guys and gals have it down pat. (Thanks, Aweber!)
If you are not building a list yet – it is time to get started. Check out these guys – I think you will agree Aweber is the place to call home.
If you liked today's post and you gained some value from it. I would appreciate if you shared it with your readers using the social buttons below. Someone you know or maybe even you need some help moving your business online.
Angela Brooks
Email: angela@wordpress-131029-1141235.cloudwaysapps.com
Angela's Blog: AngelaBrook.com
Facebook: AngelaBrooksBiz
Twitter: @angelabrooks
Instagram: AngelaBrooks1
Please follow and like us: