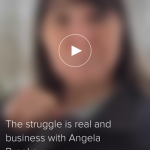 I sent a single email out to my list this week asking how I could help them in their business and for them to tell me what was the #1 struggle in their business right now. 45 people replied to that email – not counting the ones on Facebook and Twitter that responded.
People are looking for business strategy to that will show them results.
I know there will be some folks that are not going to put in the work that it will take to make a business get off the ground.
However, the ones who do will be so pleased with themselves one year from now. Putting action to your business that gets real results, tracking your business and staying in touch with your new leads will change how you do business and view your business.
Strategy vs Tactic
After reading all the comments and seeing the struggles people are dealing with in their business. I wanted to help them with strategies that will get them moving forward. I will be coaching a limited amount of people who are ready to put some true actions into place for the month of February.
This coaching group will be the type of person who is serious about results and tracking their business. They will be glad to give up a few TV shows to learn how to change the business they have to a thriving strategic machine.
IF you are a Go Getter and Just Need Help Getting to the Next Level, Enter Your Information here to stay up to date on the new coaching program coming up very soon. Plus you will get three days total free on how to use social media.
Watch this Periscope about "The Struggle is Real in Business"
Follow me on Periscope: @angelabrooks
Follow Me On Twitter  Kentucky Twitter Gal
Check Out My FB Page – Angela Brooks (Free Internet Marketing Resources)
Wanna Work With Me? Work With Angela
PS: You can get updates like this and others by entering your name and email to discover the secrets these leaders are using.
PSS: If your business upline Does Not Have a Step-By-Step Blueprint For Success, Check This Out (Unless You Already Have Too Many Leads) – Click Here to Get your Copy
Please follow and like us: