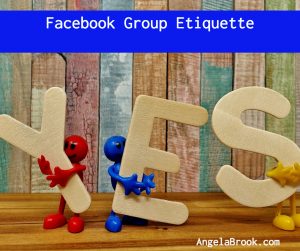 You just added someone to your Facebook group without their permission and the pinned post is all about the products and company you are trying to sale. There are pictures and testimonies that make the group clear on the intention.
The first knee-jerk reaction for most people is they feel pissed off and leave a nasty comment in the group and leave. Maybe they skip the comment and remove themselves and unfriend you on Facebook.
Or I will get messages like these on Linkedin and other social platforms:
From Joey "Hey Angela, how are you? I own an international internet business that has taken off globally. I now only work for an hour a day on my laptop from wherever in the world I am travelling. It is a great lifestyle for sure! Are you with a network marketing company?"
Let's not forget the statements about "ground floor opportunity", "I made $10K in just 90 days." "We have the best products around the globe" "We have the one and only XYZ" "You don't have to work to make this happen."
Don't add people to Facebook Groups without their permission
This is one of my biggest pet peeves and one I know a lot of other people this is too.  Sometimes the founder of a group might think that you might be interested in a group because you are interested in the topic.  Or they think you might be a good "addition" so you can answer questions in their group. They basically want to use you and your knowledge in their group so they add you to benefit them.
Facebook has made its way to easy to add people to groups instead if "inviting" someone into a circle. The response would be so much different if you sent someone an invitation and they excepted on their own.
Invite people personally through an e-mail with your invitation and why they might want to join.  Give them a link to the Group to join if they would like. Outline what's in it for them. Let them decide if it is for them or not.
Share the link with your Group on your Facebook profile with an invitation for people to join. Do not share your link to your Facebook Group in other Groups this is spamming.
Share the link with your Group in other places like Twitter, LinkedIn, or at the bottom of your e-mail signature.
Do the work it takes to find the people who will benefit your community.
Even though it is not hard for people to leave a group. That is not something they should have to do or worry about just because you thought it was a great idea to add them.
Post the Rules or Guidelines of your Group
Most groups have guidelines and rules for groups and it is a pinned post at the top of the group to give people an idea of the agenda. Some groups allow any type of posting and some have topics like some of the baseball mom groups I am. I am in them because I have been a baseball mom for 18 years. It is something that interests me.
Facebook Group Etiquette
The very first thing I do is leave the group. Sometimes I may unfriend or unfollow the person who has done it. I may even message them and tell them why it was inappropriate. I have rarely stayed in a group that I did not choose to join. If you are reading this post it could be inside a group that I was added too and I posted this blog post in the group as a message to the admin.
Remember that even though we are online, we are all still interacting with other humans. You wouldn't walk up to a blind date and french kiss them before you even said hello, would you?
I dislike being added to groups almost as bad as sending someone a private message and you can see they have read the message and never reply back. That would be the same thing as standing in front of someone out in public and say hello and they stand there and stare at you.
Facebook Group Dos:
Spark interesting conversation with other humans. If you work from home or even part-time you get stuck in your own heads sometimes and it is nice to bounce things off other people. Listening to new and fresh ideas can spark something in you that you had not thought about before.
Play nice in the sandbox. Listen as much as you talk. I don't need to tell my story over and over that is my blog's job. I need to listen and learn from other people and the only way to do that play nice.
Be Helpful. In some groups, people will ask for others opinion. If you have time to look at something they are providing, give honest feedback and stop trying to sell them your thing. Just give kindness of an opinion. Help someone out.
The last thing any online business wants to do is to annoy potential customers or other people in the industry. Look at it in the same respect as an offline business, junk mail and cold calling (they don't want to talk to you) Adding people to your mailing list or Facebook group is JUST THE SAME. If you wouldn't do one then don't do the other.
There are many good ways that you can grow your business online and find new customers, spamming people without their express permission is not one of them.
Let me give you a few ideas.
 Message them and invite them. Everyone loves the personal touch.
Post in your group and ask people to "invite" their friends not auto add.
Post on your personal profile and link to your group, invite people to join that you have a conversation with.
Send out a newsletter to your list and invite them to join. If you are not building a list you are missing a big part of your business.
Include a link to your group in a blog post or in your email signature. Learn how to promote your group and what you have to offer without being a slim ball.
MONEY is just a representation of how much value you bring the world. The more value you inject into your surroundings the more money you will make…it is the LAW! Lets' get you moving in the right direction
Connect With Angela
Please follow and like us: