Addiction for Breakfast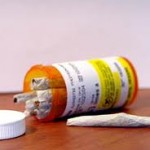 He arrived in a orange jump suit, His hands cuffed. Young handsome well nourished African American with a long history of addiction problems. He was raised by a single mother who was a nurse. He did not know his father. His problems began in elementary school where he obtained a 6th grade education an no GED. He said," I stayed in trouble all the time from my behavior, school was to hard." He was ask about his home life – he referred to his whipping as a child more like beatings. With a low education his work history was easy to follow. He worked mostly restaurants for a small wage that did not cover his $20 a day drug an alcohol habit. He began stealing to provide for his two pints of absolute vodka to help swallow his Lortab – then kicked back to smoke his crack sprinkled marijuana cigarette.
His story had began, so had his legal history that landed him in prison for 8 years. He was denied for parole three times. He served all his time. From the age of 19 – 27 yrs old he was behind bars. Once he got out he again served two more years in a local jail for receiving stolen property from a friend.
Today he sits on a mental ward tormented by. 'Voices'.
At 3 am a loud bang rang out in the quiet hallways. Staff began running down the hall to follow the noise. He walked out of his bedroom to the hall, plopped down on the couch with his head in his hands.
The staff looked into his room, noticed that the drawer from the wardrobe was broken laying in the floor upside down. After attempting to talk with him, which seemed like 6 minutes was only two before he spoke." They told me to do it" then handed his arm toward the staff. Red streaks across his forearm where he scratched the surface with his coloring pencils – that were removed from the room. He sat quietly. The staff remained with him for safety as the doctor on call gave an order for Haldol 5mg Im now. Six staff walked with him to his room to explain the order. He slowly laid down on the hard plastic mattress exposing the wings tattooed on his shoulders ready to receive medication to quieten his inner world.
One staff remained with him, one to one for safety.
The voices in his head are much like the ones in your head, except… yours remind you of the grocery you need to pick up or the kids next soccer game. His voices are demanding, yours are gentle.
The nurses reaction skill must kick in. After 8 yrs in prison, interaction with him has to be soft, stern, understanding, and cautious.
You don't learn that in nursing school but in a Psych ward at 3 am.
She also runs her own company on the side and supports other nurses in how to bring passion into their role at work. Out of the box remedies for speaking to people and more.
Take the Nursing Survey by clicking here We want to hear from you
* Please note: I am not here to CURE, DIAGNOSE, Treat or suggest replacements for what a doctor prescribes – I am sharing my nursing adventures with you.

What Did You Think?
Let us know your thoughts on today's issue.
Post your comments below here.
Remember – sharing is caring…
Forward this email to a friend!
Are we connected on Twitter? | Can't wait to meet you on my Facebook Page wall!