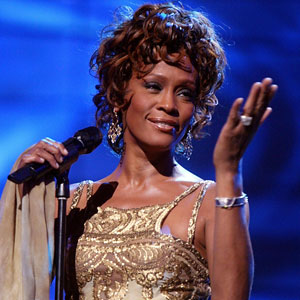 Whitney Elizabeth Houston (August 9, 1963 – February 11, 2012) was an American singer, actress, producer, and model. Who left this world, leaving behind a daughter and many fans who adored her just like she was.

Such a marvelous life gifted with talent, the voice of an angel that sang with such ease. She was an icon, to the 80's when I was growing up. Her beauty turned heads and she presented herself with such grace and glamour.

Behind the closed doors of her home was another life that no one really knows what it was like or how much pain was really there. She infused her life self medicating from something – pain from a bad marriage, maybe the stress of being in the public eye – or maybe even feeling as if she was not good enough.

As people look into other people's life they see the shell of a person but not who they are. As a mental health nurse I was seen all walks of life, financial back grounds, job status, crumble under life and end up in a very sick mentally ill mind.
Whitney had what most Americans call the "dream" life. Money – the big house – the cars – the lights and great opportunities. She held the stage for people to hear what she had to say and could change lives by just living out loud. She had all the tools and platforms to share with the world her talent of singing and her beauty.

Whitney made the statement: "The biggest devil is me. I'm either my best friend or my worst enemy," Houston said to ABC News 10 years ago"

Inside of her own body was her worst enemy. No matter what the world was screaming to her she could not hear they loved her just as she was. They loved her even though she was addicted – they knew she had an addiction to drugs and alcohol – they knew she had a abusive marriage – they knew she had struggles in her life and they loved her….just as she was.

Life is each of our own platform and we are our worse enemy who holds us back from using the talents we have been given. You may see your talents as small and not important – but to someone your skills and talents could mean the world.

When I began writing as a mental health nurse. My question to my business coach Sandi was "Who wants to read my stories about being a nurse…?" She said …just write. I did and the results have blessed me over and over as other nurses and health care workers have commented someone who understands.
If you are holding back from singing…from writing … from speaking to those around you or whatever it is. Do not hide your talent. It was a gift to you – meaning you have all the tools to use it inside your built in tool box. Flip the lid open and use your skills. Someone is watching you – because if you can – they find courage to use their talent. When you hold back, you could be holding someone else too. As Whitney sang:"Learning to love yourself is the greatest love of all – no matter what they take from me – they can't take away from dignity."

Whitney Houston touched the world with her voice and her smile. She changed lives for being who she was. No one is mad at her – they wanted more of her. She was not able to give any more. Today is your chance to give, and I hope that you will. Whitney we love you, thank you for blessing us with your music.

Angela Brooks is a mental health nurse educator who spent the last 22 years working in a state funded mental hospital. In 'A Nurses Story', she shares not only what her patients have taught her over the years, but what we can all learn from those we consider 'at the margins of society'.
Come say Hello on my Facebook Page





Facebook comments:
comments