"One of the problems we have in this country is that too many adults believe in Santa Claus,
and too many children don't." Lee Lauer
I can't think of anything sadder than little children who don't believe in Santa Claus! One of the miracles of childhood is to allow imaginations and fantasies to rule the universe. The tooth fairy, the Easter bunny and Santa are huge and important parts of development. All too soon the real world steps in to dash our hopes and drag the cold realities of life into view. For just a little while, wouldn't it be nice to go back to our past and relive some of those innocent days?
Shirley Temple tells of the day when she stopped believing in the "bearded man." She was six years old and he asked for HER autograph! As for myself, my sister (who is ten years older) was the one who made it perfectly clear that "only babies believed in Santa." I think I was seven years old and not nearly ready to give up the thought that Santa wasn't real. To this day, I will never forget the day I heard that cruel bit of news.
Tell me if I'm wrong, but the way I see it, children will eventually discover for themselves that perhaps Santa is only a figment of their imaginations. They will naturally come to the realization without any help from well meaning adults. When they are ready to know, they will know. Until that time, let's enjoy the season with them. Childhood is fleeting.
As an additional read, search for …"Yes, Virginia, there is a Santa Claus" in Wikipedia. The actual letter, written by an eight year old girl in 1897 to the New York Sun, inspired a great and famous editorial written by Francis Church. It is a must read!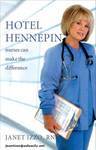 Janet Izzo, RN author, and inspirational speaker, Janet speaks specifically to nurses and nursing students across the nation. She resides in Ham Lake, Minnesota and is a member of the Minnesota Nurses Association. Her topic "Nurses Can Make the Difference" shares her passion for the nursing profession
In her newly released book, "Hotel Hennepin," Janet chronicles her experiences working as a staff and charge nurse in a large county hospital on the obstetrics unit. The stories are poignant, sad, and hysterically funny but are absolutely true! Every story makes a point or teaches a lesson. Her goal is to educate, inspire and entertain nurses to be the best they can possibly be!
Facebook comments:
comments