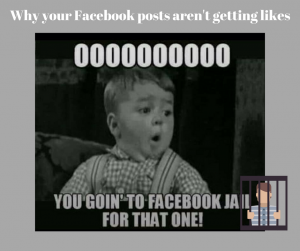 You have been posting on Facebook every day but no one is liking your post even though you are liking their post. You are seeing all of your friend's posts and you feel like a ghost. What is going on?
Facebook is in control
Facebook is watching you. They know your routine better than you do. If you are a scroller and not someone who takes the time to interact and be "social". You get penalized.
Yep – Not quite like the Facebook jail where you can't post or reply to messages but your page is not shown as much and well… no one will be liking and be commenting on your post.
Another tip… if you are running down your page and liking post thinking you are doing a good job at being social. The Facebook algorithms know how long a post is by the word count. If you land on a post that takes a few seconds to read and you click like to fast it looks at you like you are a bot or a spammer especially if you do this with several stories in a row.
Facebook lowers the viewing of your page.
That sucks, doesn't it?
Facebook is meant to be a social place where you chat and talk to people. Sharing pictures and interacting instead of being a creeper scrolling with no likes or comments.
Stalkers go to jail!
Facebook is not a billboard that sells your products all day. If you aren't getting any attention using that method. STOP! Re-think what you are doing and let's learn how to make people want your product and ASK you more questions.
It is counter intuitive to what you think you are supposed to do and I know sounds weird. Stop posting your products, and start building connections without trying to get to someone's visa card in the back of your mind.
Fun stuff happens when you act human and connect.
How to become friends with Facebook's algorithms
Play nicely on the playground. Share the love by commenting and giving feedback on the post. Instead of just using the like button use the cute emoticons.
Your comments don't have to be long and drawn out but play well with others or sit in the corner.
I have had post on Facebook that were silly but fun and gotten hundreds of comments, likes. That is playing nicely with Facebook.
The Facebook algorithm is a beast in its own cage. About the time you think you have insights figured out it will shift. What it comes down to is posting a quality post with high value that gets people's attention.
Quality content is key
Share blog post (like this one) on your wall,
Use the share button to share someone else's post so they get credit and you shared nicely.
Don't be like Sammy and be Spammy or use click bait. Meaning they have to go to your page and click like or jump through hoops to get the content. That worked for a while but it's over.
Stop posting your products in every post – actually, stop posting your products. Wal-Mart does that, and the dollar store. You don't need to look like an advertisement agent. Be real. Post that stuff in a group designed for that.
Create a curious post that makes people ask questions but are written in a conversation. Posting pictures of your shake that you have for breakfast is ok if you are telling me a story. Leave the comment out about the shake all together. Someone will ask what is in it. Simply reply – "I will message you my super duper top secret recipe – it is yum-o-lious". Watch what happens.
Bring your personality to your page. I am snarky and post it on my page in my post. People like to see real (the same reason they like reality tv)
Good Facebook Practices
Make sure your Facebook profile is complete. NO sales – tell me about you and who you serve. Do not list your company name or products.
Post pictures and videos it grabs people's attention. (The color post on Facebook drive me nuts and I ignore them)
Tag people you are sharing their post, or a page that is mentioned in the comment. DO NOT tag people who are not in the post, or add them in a comment where they can't remove the tag.
If you are using video on your Facebook page they reach the top of Facebook feed faster than text post with out pictures. Tell people ahead of time when you are going to go live and increase your followers who will watch and share.
Now you know a little more about Facebook and how it's mood changes faster than your own. Start sharing, and chatting it up in your feed.
Start a conversation, be engaging, post pictures, be curious and fun, jump on hot topics to be cross viewed in other audience if it is relevant to your niche.
If we aren't friends on Facebook, don't you think we should be?
Yep – I do. Click here to add me as a friend – THEN – send me a message and tell me, hello and you found me because of my blog. That makes me super happy. I don't add anyone that won't say hello back in a message. Just a good rule of thumb because I won't let someone in my house if they will not talk to me at the front door either.
Don't have a blog and you are scared to death to start one but kind of curious come take the 10-day trial tour to start blogging, and if you are one of those people who likes to have money options coming in, jump in on the VIP 10-day trial offer to a blog and extra revenue.
I know you liked this post because you are still reading, you will get tons of value inside the weekly email where I share more tips for social media to generate leads for your business and build a fan base along with simple marketing steps how to use Facebook to generate leads for any business.
Simple marketing tips to show you how to generate leads, and give you inside tips that work today listed in this ebook for you to download.
SHARE – COMMENT – LIKE  this post!
More Ways to Connect With Our Free Training Resources:
Join Our Facebook Community
Follow Us on Instagram
Get News Updates from us on Twitter
Follow Us on LinkedIn
Access the Digital Training Vault
Recommend Training University Community
My recommended Essential Oils
If you enjoyed what you read, from this free training page, please feel free to share, distribute, and post this content so your team can benefit from it too. All that we ask in return is that you attribute all content to Angela Brooks, and post a link back to our website at AngelaBrook.com/blog Thank you!
Facebook comments:
comments