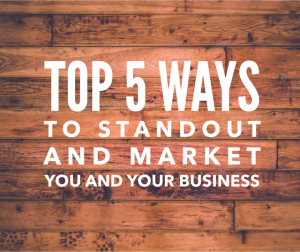 Marketing your business is one of the most important skills you need to learn and the one skill that most people don't take the time to learn. There are 5 top ways to stand out in any business that you are marketing.
I get questions almost every day about how to generate leads for a business. Most companies in the health and wellness industry still encourage having the "home meeting' type prospecting. That was not something I enjoyed doing and I didn't see me staying in the business long if that was something I had to do.
I had to figure out what would work with me and my schedule at the time, a full-time job, and full-time mom.
Attraction Marketing
Attraction Marketing is something anyone can do but adding a few sharpen skills makes it a little more fun to learn how to filter the people that you want to attract. There are a few things you can learn to look for to build a dream team and a top earner in your company. I talk about this for 55 minutes in video #1

Branding
Understanding your target audience or market allows you to focus on strategies that bring more profit for fewer efforts. Your ideal customer is a good fit for you and what you have to offer makes it easy to sell because they are ALREADY looking for what you have.
+ What do they want (their needs right now)
+ What is their problems (issues make them buyers and your solutions fix them
+ How do they buy (online shoppers, mall shoppers, amazon)
+ What do they read or watch on TV
Generating leads using social media
When someone says they don't have anyone to talk too they are missing out on a whole world connected to social media. Plus it is a lot easier to prospect online than it is to hear NO to you face.
Blogging holds the TOP spot for a growing business online and social media and is content rich to be found as a serious business when the blog is updated regularly. 92% of today's business owners indicate it is a significant part of their marketing structure. In video #3 I talk in detail about how you can use simple tips that work that day to start generating leads for your business.

Email Marketing
This is one tool that is so overlooked and if you are not building a list. I highly recommend you buckling down to start one. I have had an email list since 2010, In just a few minutes I can sit down and send out an email to thousands of people and have someone reaching back out to me and making sales.
Some people think that facebook or Twitter is their list. Nope, it isn't. You have no control of those people. A list is a big part of your business.
I use and suggest you use Aweber. It is affordable, grows with your business, and easy to learn. Plus they have amazing tech support. You don't need a huge list to make a good income. Using social media you are always on your toes to learn a new strategy. With email marketing, it is pretty straight forward and of course, you can learn to add a little twist to your list to make it work for you even more.
Just imagine what it would feel like to write out an email, hit broadcast and in a few hours make a couple hundred dollars. If you build an email list of 100 people you can make money easily. I talk about more details inside video #4.
Blogging to build an authority
Your Blog Builds YOU up as the expert that people will listen to and follow. Provided you have valuable content. As I blogged and it built up followers, I had people reaching out to me and wanting to join me in my business. These were people that were looking up to me that viewed me as a credible leader that they wanted to join and learn from!
When I picked up the phone to talk to my blog leads, people treated me like a celebrity on the phone…. They were so excited to hear from me and, what was even more exciting, they were basically ready to get started without me having to spend too much time telling them the details.
Your number one reason to have a blog is to build your brand and to generate leads. It gives you space for people to get to know you and space for you to tell them more about you. Blogging takes consistent work to make it start working like an ATM machine. It doesn't happen overnight but neither does growing a business. I worked for 25 1/2 years for someone else and would have had to start over somewhere else had I not left to work from home. In video #5 I talk about how to find content to put on a blog, learn how you are talking too, and what a call to action does for each blog post you put out to the world to read.

Stand out in your Marketing
The only way you are going to build a business that can turn into something you can hand down to your family generations from today is to get started now. If you aren't in a business but you are serious about getting started let's see how we can work together.
If you are struggling to generate leads to talk to in your business, you can continue to struggle, or you can get the inside tips that will teach you how to never run out of people to talk too and with a blog have people looking for you. Through an email list that loves to open your emails and read what you have to say. Start standing out instead of doing what everyone else is doing. Be different because you are unique
The first webinar recording is totally free <WATCH it here> I am sharing my most cutting edge strategies and tips that you can use to become a top earner like I have done.

---
Start here —>"Top Five ways to stand out Market you and YOUR business" Learn to generate your own leads and get real checks? (Unless Of Course, You Are Already Making Too Much Money!)  The #1 thing you absolutely have to do is to get more sign ups and grow a bigger team Click Here For Instant Access to the webinar
---
We all have a message to share with the world – let's get started! If you got value out of this post use the social buttons to share it to the world for them to see. Leave me a comment. I enjoy reading your insight to the blog post.
Angela Brooks is a retired nurse after working in mental health for 25 1/2 years. She built her 6-figure business part-time on her lunch break. Now she helps entrepreneurs use social media and a blog to build a wildly successful sexy business online.
Facebook comments:
comments