Three mistakes that are allowing Facebook and Google to kill your business from generating leads The answer is so simple and avoiding this could change your life.
Facebook was designed to be a social platform where you connect with people and get to know someone. It is not a flash sale or a billboard to showcase every product your company already has on their website.
I see people every single day posting about their network marketing company. They talk about the products, the results, the new stuff the old stuff. They tell everything they know and somethings they don't know enough about. They have the products in their profile picture, products spread out across their banner page, their company ID# number in the about me section, it is smeared everywhere. There is no doubt in anyone mind without scrolling down the page what they do.
Why is it called Facebook?
It is called Facebook, not MLM book, your profile should be your face, not your company logo, your dog, your kids or a flower. It should be your FACE. That is the first disconnect on any profile that has anything but their own face in their profile. When someone sends me a friend request and it has a company logo or a product in the profile image I delete the request. I can not talk to a bottle of products. I am not going to become friends with a daisy flower or a dog (and I love dogs).
Those pages are normally the ones that get little to no engagement on their page if at all. If they do it is their friends in that same company. When people come to your page and they see your products in every post, they leave and rarely will come back. Then Facebook notices that no one wants to hang around and they will stop sending traffic your way as often causing even fewer interactions to happen. Read this post – Why your Facebook posts aren't getting likes
When someone comes to your Facebook wall and they see all the products listed and how you are talking about it. The curiousness is not there. They know all they need to know about you and your products. What do they do?
They go to Google and ask the Google man about the name of the company, about the product you had on your profile, and Google the information you posted to see if it would help them. They don't need to ask you anything, you have cut the need to talk to you out of the equation.
In the research process, they now come across an online marketer or a smart marketer who has content marketing (blog) that attracts them over to them who now draws them into their business after you did the initial showing of the product. You are running your business for free and someone else is getting the benefits of your knowledge.
People are informed and they begin sponsor shopping and find someone in your company who is kicking butt and they join them. You are the only one who is not aware of what is going on and you keep doing the same thing over and over getting no results.
There are many times that someone will sponsor shop and sign up and then come back to you for more free training.
Curious is the secret you are missing
Stop telling everyone you meet the name of your products on Facebook. Talk about the value and the benefits that will serve someone's problem. The last thing you want to tell them is the recipe and the products they need. The first thing they will do is go find the products somewhere else cheaper, maybe not as good as the quality you have, plus they get different results than you talked about. Now they are saying it is a scam.
Draw them in with a curious post and have them send you a private message on Facebook. I recently posted on my facebook wall a simple question. That lead to 291 comments (leads) for me to talk too. They had no idea what I was referring too but wanted to know more because they were curious leading to three sales.
Once people stop being curious they stop asking questions. It is ok to post content on your wall once in a while on your Facebook wall but pays attention to what gets more attention. The curious fun post, where you are sharing things that people can relate too or the billboard post. Help me learn more about you, draw me in with who you and what gets us chatting. If you aren't willing to chat with people on "social media" you have already lost the game.
If you will watch the larger well-known marketers marketing. They are talking about life, fun things, gathering with friends and incorporate the products in the post without being a billboard. Cover up the name of the product. Stop giving it all away in one post. Draw people into your messages to get to know them and see what you can do for them. Otherwise, you are doing all the education for someone else to sponsor them.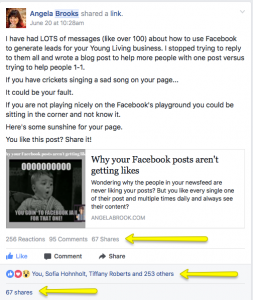 Are we friends on Facebook? Don't you think we should be?
I do. Click here to add me as a friend – THEN – send me a message and tell me, hello and that you found me because of my blog. I don't add anyone that won't say hello back in a message. Just a good rule of thumb because I won't let someone in my house if they will not talk to me at the front door either.
WordPress SEO Settings & Blog Post Secrets to RANK YOUR CONTENT on the 1st Page of Google for YOUR Most Profitable Keywords. Imagine the FREE LEADS FOR LIFE if you could rank in Google's #1 position for ANY keyword Get the DOWNLOAD HERE
SHARE – COMMENT – LIKE  this post!
More Ways to Connect With Our Free Training Resources:
Join Our Facebook Community
Follow Us on Instagram
Get News Updates from us on Twitter
Follow Us on LinkedIn
Access the Digital Training Vault
Blogging for Business Training Mastery
Weekly Updates and your Free Social Media Insider tips to generate leads eBook
Facebook comments:
comments