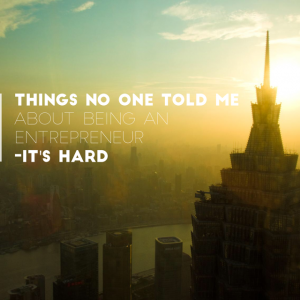 Becoming an entrepreneur means taking charge of your income, your projects, your schedule and freedom from actually going to a job.
To be very honest, being an entrepreneur is not for everyone. It is hard work, and you have to push through fear and drive past things you don't understand. At times it can be lonely
I had some good times at my job on days that we were not in full-blown crazy mode. We would laugh until our sides hurt, dance with the patients, watch movies and eat popcorn and listen to people share their stories that made me really appreciate where I was in my life. I miss that about my job, the funny giggle chit chat but there is so much more I don't miss.
As an entrepreneur, not everyone understands what it is you do and it is even harder to explain. People will smile, shake their head and say "Aha". You know they don't get it.
Losing FOCUS can suck you down a rabbit hole
Having the freedom to do what you want because no one is tracking your time can backfire to the point of disaster. If you're not on a schedule for lunch, breaks or a boss asking questions. You have to focus on your own to get projects done.
Most days I am on time with task – but there are days I have squirrel syndrome!
I find myself "needing" to get things done and I sit and stare at the screen. On those days I get up and go outside, take a walk, play with the dogs, anything to open my mind to receive a clear thinking path.
Just for thought
Entrepreneurship provides the opportunity to earn a significant income from many sources. It can be very consistent or non-existent. I hear people say all the time they want to start a blog but when they run through the first 10 ideas they push the blog aside because it is now considered hard.
Don't start a blog thinking you are going to get rich quick. Blogging is a slow process of developing content but it is also one that will outlast most business efforts without having to always be in action. It is always working for you.
I blogged for 6 months before I had any real connections. My list was growing so slow it was hard to remember in between the new and last subscriber.
Blogging teaches you a lot about discipline and consistency. When people notice, you are not going to disappear overnight they hang around longer to see what you have to say.
Being an entrepreneur is hard.
Being an entrepreneur pushes you out of your comfort box
Being an entrepreneur is worth it.
Wow you are still reading this far down… then I know you are listening… and you may be serious
We launched a mini course that has 5 tips to get your business set up to work for you long term. It has 5 hours of training, a workbook, and dozens of nuggets that work when you use them. You can work on your own to figure all this out by doing hours of endless research, to find all this information or you can invest in your training to learn from someone who has tested the tools and gotten the results you are looking for.
You can look at around at all the top marketers that you follow and they ALL have two things in common.
Why?
It's because THAT is where the money is. You can fight it. Throw your nose in the air and say you don't need it. The fact remains… you are missing dollars by playing small.
I would love to share this mini course with you to show you how to generate highly converting leads, build a list that loves you, and build a blog that never sleeps.
I see so many people struggling in their business because they are missing critical areas in their business wondering around in parking lots with their business card that no one wants.
You are lacking this one word that is crushing your results and that is ACTION.
I want you to have this so I have slashed the cost of the mini course 50%.
I honestly can not think of a smaller investment that can bring you more results than putting these tools to work for you. My number one priority is to help you – now it is your turn to get startedIf you make the excuse "I don't have the money" or "I don't have time" You have already closed your business in your mind.
---
Start here —>"Top Five ways to stand out Market you and YOUR business" Learn to generate your own leads and get real checks? (Unless Of Course, You Are Already Making Too Much Money!)  The #1 thing you absolutely have to do is to get more sign ups and grow a bigger team Click Here For Instant Access to mini course
---
We all have a message to share with the world – let's get started! If you got value out of this post use the social buttons to share it to the world for them to see. Leave me a comment. I enjoy reading your insight to the blog post.
Angela Brooks is a retired nurse after working in mental health for 25 1/2 years. She built her 6-figure business part-time on her lunch break. Now she helps entrepreneurs use social media and a blog to build a wildly successful sexy business online.
Facebook comments:
comments