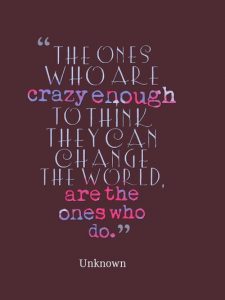 You say you are in business.
Your bank account says you're not.
Business is not for the weary nor the ones who are not willing to give it a daily effort so they can change the world. The words "Building a Business" should indicate what you have to do to reach the levels of income that people post about on social media. A business is built, not bought, not dreamed of but truly built whether it is a concrete building or online real estate.
The ones who are crazy enough to think they can change the world are the ones who do. I am one of the crazy ones. I totally think I have something to offer the world. The fun part, is I hang around other crazy people who know they have something to offer as well. We gather under the same roof several times a year to mix and mingle and this business calls it "networking".
Friends discovered in business
A friend of mine that I met because of business Soraya Goddard, and I had a conversation one morning that lead her to make this post:
Inspired by a conversation with my dear friend Angela this morning.
A lot of people want the dream ending – the big house, the time off, the paycheck… but they don't want to put in the work to get uncomfortable. Unfortunately for them, that zone, where it's the most uncomfortable, is where the magic happens.
Simon Sinek describes this as the ability to see the top of the mountain, but not the hard climb on the way up. The mountain isn't the obstacle that's in your way.. it IS the way. The climb up that mountain is where leaders are made, where you learn about the stuff you can't get from a book, and where you learn about yourself the most. The climb is what shapes you and gives you the experience you will need to reach the top.
The climb is also where you decide whether you TRULY want it or not. And for those who do, they keep on climbing, even when it sucks and gets hard.
And I'm not saying the climb up that mountain is always bad, it's just usually a little bit different than you expect it to be, and that's where most people quit. Allow yourself to embrace the uncomfortable. When you're okay with being uncomfortable repeatedly, you'll certainly get there…it just might not be the way you expected.
I honestly could not have said it any better. The climb has been a 6-year crawl and I have learned so much about me and what I was willing to do to change how my income looked, how my family lived and the people I had around me.
Your excuses are killing your business to change the world
I hear so many excuses but they are really all the same. Nothing original.
I have to ask my spouses permission
I don't have the money
I don't have the time
I have kids
I have a job
I will start next May on the 32nd
I would but….
Most people don't believe in the possibilities, or that they have what it takes. You aren't looking because you think it is the cool thing to do you are driven to business for a purpose. When you say yes – but back up you are in fear of success. When you move forward in doubt you are blocking your own road.
Not one person I have met who found success had an easy road to success. Not one person. Most of them had a crappy past that drove them to do and be more.
Who is network marketing for?
Success stories in network marketing are full of abuse, divorce, abandonment, neglect, loss, forecloser, children who have died, spouses who have passed, been fired from jobs, stay at home moms with 2- 16 kids, living on welfare, living on someone's couch, living in their car, working as a toilet bowl cleaner, executives with 6-figure jobs, nurses, doctors, authors, NFL professionals, professional speakers, professional dancers, beauty queens, Dallas cowboy cheerleader, Officers in the military, daycare workers, factory workers, people skilled and not skilled who had to learn how business even worked.
What makes you different
My question – is why do you think you are any different? You can be successful like they have been. Except they wanted it so bad they didn't stop until things shifted. I can teach you, I can give you free tickets, free webinars, free products, free notes. I can't write you a pay check. I can't make you want it. That part is all on you.
I understand the struggle and I can offer you a free webinar every single Wednesday – you have to sign up and show to learn. I can get you started in a business and add you to my business coaching group where we learn about products and business but you have to get started by taking that step forward.
If we aren't connected on Facebook – we really need to be.  Follow me as a friend if you are just curious but if you are ready and willing to get uncomfortable and learn new things then send me a message and let me know you read the blog post! I don't add everyone on Facebook – only the people who are ready for the next step. If is now up to you, you are not still reading this post because you are bored – your gut is telling you it is time for a change. Let's chat.
SHARE – COMMENT – LIKE  this post!
More Ways to Connect With Angela
Follow me on Facebook
Kool pictures on Instagram
Opinions and Such on Twitter
Resume' on LinkedIn
Resources I use: Resource Link
Highly Recommended Business Marketing & Blogging training 
If you enjoyed what you read, from this free training page, please feel free to share, distribute, and post this content so your team can benefit from it too. All that we ask in return is that you attribute all content to Angela Brooks, and post a link back to our website at AngelaBrook.com/blog Thank you!
You may have missed these post:
1460 days to build a freedom foundation to retire from nursing
How do you make money to survive while you are building a business
Facebook comments:
comments