"We're all mad here"
the Cat… from Lewis Carrroll's
I am guessing that all of us…at one time or another…have been a little "mad." (Fortunately, that is now an obsolete term for "legal insanity"). Even Aristotle, the great Greek Philosopher, from 384 BC said, "No great genius has ever existed without some touch of madness." So if Aristotle said it, who are we to doubt it? (Don't answer that)!
The American Psychiatric Association publishes the Diagnostic and Statistical Manual of Mental Disorders (DSM IV for short). It is an amazing and interesting publication which lists every psychiatric and personality disorder known and unknown. It assists health care professionals to make accurate diagnoses (hopefully) and therefore help and treat patients.
If one would study the DSM IV carefully, one could find themselves somewhere among its hundreds of pages. We all have something. We all are a little "off" at times. That is not to say we are unbalanced or dangerous or mentally ill. I'm simply saying, we all have our little faults, our quirks and idiosyncrasies, don't we?
As I have studied the DSM IV off and on through my
nursing career, it amazes me how helpful it is. Beside the fact that it is an incredibly interesting read, it has given me some great insight into human behavior. It has helped me to care for certain patients and to understand what they needed from me as their nurse.
I am humbled when I think of the scholars of Psychiatry who have spent entire careers devoted to understanding the minds of people. And yet, they would be the first to say there is still so much to learn.
Was Alice's Cheshire cat correct in accusing us of all being a "little mad?" That may be an overstatement. Then again, no one is perfect. Right?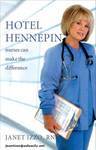 Janet Izzo, RN, author,
and inspirational speaker, Janet speaks specifically to nurses and nursing students across the nation. She resides in Ham Lake, Minnesota and is a member of the Minnesota Nurses Association. Her topic "Nurses Can Make the Difference" shares her passion for the nursing profession
In her newly released book, "Hotel Hennepin," Janet chronicles her experiences working as a staff and charge nurse in a large county hospital on the obstetrics unit. The stories are poignant, sad, and hysterically funny but are absolutely true! Every story makes a point or teaches a lesson. Her goal is to educate, inspire and entertain nurses to be the best they can possibly be!
Facebook comments:
comments