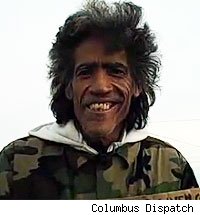 Have you ever been in a big city and observed the people that will lay on the street, hold signs for money, beg for a cigarette?
Most people look at them as crazy drunk people who are scary. It is true there are a lot of mentally ill that are unable to hold a job because to their illness and lost their homes due to many situations that end up on the street. Mothers who lost their jobs and have small children with no family support end up on a corner or alley of the streets. There are many alcohol induced people who have allowed the bottle to take over their life and consume them. Do they want to be there?
Over the last few days a homeless man named Ted Williams, the man with the Golden Radio Voice, has hit the social media scene with over 3 Million hits on YouTube. He was pan handling for money on the streets when a reporter got close enough to read his sign that he was holding. "I have a God given talent gift of voice. I am an Ex radio announcer who has fallen on hard times. Please any help will be greatly appreciated Thank you and God Bless you"
I do not know the whole story to Ted Williams and really do not need to. I did watch Facebook, Twitter and Yahoo news go viral on this man's story. Everyone was pulling for Ted to have a 2nd chance. For the last three years he had lived under a tree in a pup tent. A bottle as his friend, a crack pipe filling his lungs and loneliness set in until he allowed God to be apart of his life.
This story held my attention for 3 straight days – and I will be following up with him online to see where this opportunity takes him. He shows a heart of appreciation, the humbleness in his voice and the praise he gives to God for his second chance.
After spending 21 years as a mental health nurse I have met and worked with many homeless people. Listening to their stories of how they fell into the streets homeless.
One patient, who has been in and out of the hospital since his early 20's, He shared his stories about traveling and hitch-hiking across the USA. He shared where he keeps his money and how he found food. He mentioned when it was time to get his monthly check he would call his mother and she would wire him the money to a western union bank around his location.
Another man who came in the hospital had been a successful college graduate in the school of X-ray. After getting a divorce and not being able to see his children he fell into the bottle daily and drowned his career and lost his home, his car, and his reputation.
Another women allowed love to drag her to the edge of nothing, with a boyfriend who was a crack head. She said "before I knew it – I had smoked my whole life up in a pipe and had to sleep in the park for the first time scared to death to go to sleep"
It is not a surprise they turn to drinking, smoking, and the drugs out in the street. The fear would overwhelm almost anybody. The feeling of having nowhere to go would cause so much anxiety that I can even imagine and hope to never know the feeling.
I had one man tell me that he broke the street lights in front of the police station so they would arrest him. It was cold outside and he wanted to be indoors. They were only going to hold him for 24 hours and he told them he had plans to kill himself so that he would be sent to the mental hospital for 72 hours evaluations. You have to give him credit where it is due. He reached his goal of being inside. It did not matter to him how he got off the street – just that he did.
One afternoon I came down the hall and heard music playing. Not just any music but Piano chords and scales that ran from one side of the keyboard to the other. I followed the sound to the room over in the corner of the unit. The piano was out of tune but with this musician it sounded just fine.
As I peeked in the door – he stopped. I smiled and requested him to please continue. He had been on the unit for weeks, and spoke very little. Stayed to himself most of the time and to my surprise he had such talent. He said, "What do you want to hear?" I said, "Do you know any Beethoven?" He nodded his head and mumbled "yes" Then his fingers started dancing across the keys as he closed his eyes and How great thou art came pouring into the air. He hummed along in a deep bass voice until he came to the chore – Then sings my soul, My Saviour God, to Thee, How great Thou art, How great Thou art. Then sings my soul, My Saviour God, to Thee, How great Thou art, How great Thou art! His voice gave me cold chills – the music was flawless. I froze in place listening to this man who's unkempt appearance swayed as he sang. When the music stopped I thanked him. He grumbled something under his breath and just sat there. I slipped out of the room so he could have his privacy.
That talent sleeps under a park bench or under a pile of leaves in the dark. Snuggled next to a bottle of cheap wine.
When you see someone homeless – please do not look down your nose at them. Their luck may have run out at that point in their life. "Don't judge a book by its cover. Everyone has their own little story," Mr. Williams tells his interviewers now. "Not all homeless people are ignorant. … Some of us have educations and God-given gifts."
They all have a story – it could be like Ted Williams someone who had fallen on hard times.
Angela Brooks has worked in a state-funded psychiatric hospital in Kentucky for 21 years as a nurse, assisting sometimes-dangerous patients who come in shackled and cuffed. At AngelaBrook.com, she offers stories of life on the inside of a psychiatric ward, and the site, as well as her company, offers support for nurses in the mental health field and helps them bring passion into their role at work.
On her BlogTalkRadio show, Mental Happiness with Angela Brooks, she shares some of her experiences "learning to love those others have forsaken" and gives tips on how to bring peace to your own life.
Everyday we share insights, strategies and even some of our biggest secrets to nurse entrepreneurs on our Facebook page! Join the fun and connect with like-minded business owners and Nurses EVERY single day! Click here and "become friends" join us on facebook
* Please note: I am not here to CURE, DIAGNOSE, Treat or suggest replacements for what a doctor prescribes. The names used in this post are not the real names of the people being mentioned – I am sharing my nursing adventures with you.
What Did You Think?
Let us know your thoughts on today's issue.
Post your comments below.
Remember – sharing is caring…
Are we connected on Twitter? | Come write on my Facebook Page wall!
Facebook comments:
comments