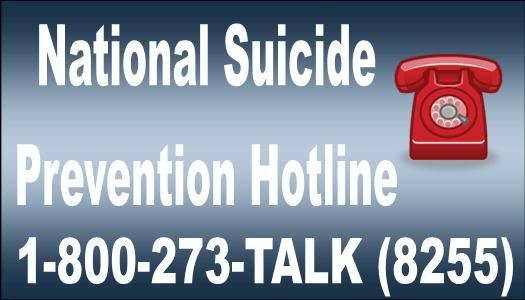 Suicide Prevention – September 9th through 15th was National Suicide Prevention Week.  More people die by suicide in the United States than die in motor vehicle accidents (MVAs). It is time we elevate suicide prevention efforts across our state to address this ongoing human tragedy.  This is clearly a major public health issue and addressing it will require collaborative interventions across systems of care and across agencies, both public and private. Evidence based practices are emerging and it is time we embrace the goal of suicide as a "never event."
When I started nursing school 1986 I had no idea what I was really getting into. I just wanted to be able to have a job that traveled any where I wanted to live. No one told me what I experience would would be left up to me to deal with.
When I began the adventure of mental health nursing I knew I would be dealing with people who had altered thinking but I never thought I would have to deal with suicide within the hospital.
Back in the early days of working at a state funded hospital I did not think allot about the dangers of working on a unit of 15 clients alone at night or with only one other staff. After 10 PM the switch board for the hospital was moved to the phones on our unit until 5:30 AM. Not only did I have clients to take care of – I also had the main phone line to answer coming into the hospital.
At 5:00 AM a call came in to the switch board to call a "Code M" meaning a medical emergency. I sounded the buzzer –and started running. The adrenaline was pumping and as I darted through the next units doors the patient assistant was standing in the hallway pointing into a patient's room, she was pale white and sobbing.
I pushed the door open and looked toward the bed. I stopped in my tracks at the sight that stood before me. There was a man hanging from the ceiling by his wolverine leather boot laces. I did not respond but flew into action without really thinking. I grabbed the chair that he had stood on to climb up on his dresser with – to get up high enough to reach the laces to cut them loose.
It felt like I had stood in that one spot for 10 minutes but it was only seconds before I jumped off the chair and knelt down beside his body and knew there was nothing we could do.
I stood in what seemed like a bubble watching the others come in with the same shock response as I had. The state troopers arrived to begin the investigation. All of the administrative staff arrived angry. People were everywhere and nurses stood in silence.
That happened well over 20 years ago. To this day that was the most horrific and traumatic event I have experienced in mental health nursing. It was not the last suicide- but it was a marked event. To this day I can still remember the conversation I had with this gentleman the night before when he told me how he had attempted to harm himself and failed in the past. I can see his eyes, see the boot laces around his neck, see his stiff body lying on the floor and hear the staff panicking and talking among themselves. His life stopped and mine was forever changed.
Suicide: A Major, Preventable Mental Health Problem
The National Institute of Mental Health listed some of the common questions ask about suicide.
Some common questions and answers about suicide:
Q: How common is suicide in children and teens?
A: In 2009, suicide was the third leading cause of death for young people ages 15–24. In this age group, suicide accounted for 14.4 percent of all deaths in 2009.
While these numbers may make suicide seem common, it is important to realize that suicide and suicidal behavior are not healthy or typical responses to stress.
Q: What are some of the risk factors for suicide?
A: Risk factors vary with age, gender, or ethnic group.  They may occur in combination or change over time. Some important risk factors are:
Depression and other mental disorders

Substance-abuse disorder (often in combination with other mental disorders)

Prior suicide attempt

Family history of suicide

Family violence including physical or sexual abuse

Firearms in the home

Incarceration

Exposure to suicidal behavior of others, such as family members or peers
However, it is important to note that many people who have these risk factors are not suicidal.
Q: What are signs to look for?
A: The following are some of the signs you might notice in yourself or a friend that may be reason for concern.
Talking about wanting to die or to kill oneself

Looking for a way to kill oneself, such as searching online or buying a gun

Talking about feeling hopeless or having no reason to live

Talking about feeling trapped or in unbearable pain

Talking about being a burden to others

Increasing the use of alcohol or drugs

Acting anxious or agitated; behaving recklessly

Sleeping too little or too much

Withdrawing or feeling isolated

Showing rage or talking about seeking revenge

Displaying extreme mood swings.
Seeking help is a sign of strength, if you are concerned, go with your instincts, get help!
Q: What can I do for myself or someone else?
A: If you are concerned, immediate action is very important. Suicide can be prevented and most people who feel suicidal demonstrate warning signs. Recognizing some of these warning signs is the first step in helping yourself or someone you care about.
Angela was voted 110th Leading Moms in Business celebrating the top mom owned businesses. She has been promoted in her job from a night shift staff  nurse to the day shift as a Education and Training Educator for the new nursing employees, she has built her direct sales business part – time, while working a full time job, with her blog, newsletter, and smart phone. She has never picked up the phone to call cold leads or have home parties.
Facebook comments:
comments