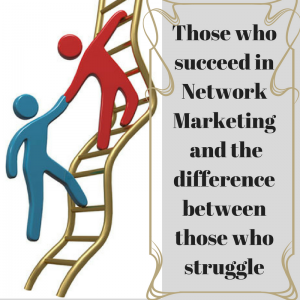 I am sure when I say the words network marketing you think of someone you know or it could be you. Those who succeed in Network Marketing and the one who struggle. What is the difference?
I have been in this industry seriously since 2010. I have been network marketing longer but made zero dollars. I remember the very first check I ever made and it was $17.50. I got excited because I actually got a check, not that it covered my product expenses but because someone sent me money.
That was my first eye opener that money was actually out there. I heard the stories just like you have from all the people who were on stage and to be honest, it sounded like bullshit. Some really are but most are people tell you their broke to riches stories are true.
I wanted to know the difference between those who struggle and those who succeed in Network Marketing.
The most successful people in the world have a secret they're not telling you. The successful people in the home biz industry that you look up to know the secret as well. And to be fair, they tend to scream it from the roof tops.
What's the secret?
Finding a Mentor who's achieved what you're trying to achieve, and taking the exact steps they tell you to take! The slow and unsure way to success is to do it all by yourself, and stumble your way through trial and error, to HOPEFULLY figure it all out yourself.
The FAST and sure way is to pay close attention and do what they show you is now possible with a mentorship program that comes with a Facebook group, CRM, and many business tools to teach you HOW to be able to interact with others who are learning like you.
Another thing for you to do is find a business coach that has reached beyond the results you are looking for. I am not a person who wants to reinvent the wheel and I like let someone else do the heavy lifting and training and they do all the teaching. I have fun supporting you and give you feedback when you feel stuck so you can keep kicking butt in your business.
Rank Makers community
Rank Makers community is another group I hang out in (and no I am not an affiliate) which is now open for enrollment for the next day or two. The first 24 hours it was open 1400 people came in – and then it closed. It is only open ever so often to allow people to get in.
One of the biggest frustrations in network marketing is not having a daily action plan and wondering what to do with ALL the information you've been given…
Well, Rank Makers' main purpose is to get you to rank advance faster and get you more results with a daily training that tells you EXACTLY what to do that day. You can get more info and see the results people have gotten here: http://rayhigdon.com/rankmakers
If you want clear direction on what to do every single day, let us help you take your life and business to the next level.
The secret to growing your business is training and a system
The most solid advice I can give you is to get a system to grow your own targeted business leads and learn how to market you in your business. At the same time promote your main network marketing company.
I found that many leads I came across did not want my product but they wanted the training I was connected to. I am able to offer them a safe place to come learn and get help with a system to build their leads and suggest a learning community like rank makers to pull them all together to see results faster.
No one wants to hear your rags to rags story. They love to hear rags to riches, frustration to a freedom foundation. People want to succeed. They don't know where to start and this blog is like an early Christmas gift of where you can get started to make that happen for you.
The best part – is I can relax because I know for a fact in both places you are well taken care of. If you use the tips and tools you will find here in these communities this time next year will look very different for you in your business. Don't have a business yet? We need to chat – seriously you need to get started and change how you look a business and how to make it run.
More Resources for you: 
Resources I use: Resource Link
1460-days-build-freedom-foundation-retire-nursing 
If we aren't connected on Facebook – Follow me as a friend then send me a message and let me know you read the blog post! I don't add everyone on Facebook – only the friendly people who actually give me a few minutes of their time.
SHARE – COMMENT – LIKE  this post!
More Ways to Connect With Angela
Follow me on Facebook
Kool pictures on Instagram
Opinions and Such on Twitter
Resume' on LinkedIn
Highly Recommended Business Branding, Marketing & Blogging system
If you enjoyed what you read, from this free training page, please feel free to share, distribute, and post this content so your team can benefit from it too. All that we ask in return is that you attribute all content to Angela Brooks, and post a link back to our website at AngelaBrook.com/blog Thank you!
Facebook comments:
comments