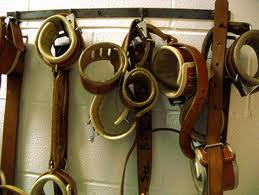 A crisis can be defined as a moment in time when an individual in your charge loses rational, and at times even physical, control over his or her own behavior. This can be very challenging and anxiety producing for those responsible for intervening. Due to the chaotic, unpredictable nature of a crisis, it is vital that staff stay calm and proceed with a plan. These crisis moments do not sprout into being without roots; there are almost always warning signs that let you know an individual's behavior is escalating.
When the CODE D buzzer sounds – everyone in the building pauses to hear the instructions and location of the crisis. All available staff start running to the area to assist, as you turn the corner you go into a high alertness to see what is going on and what needs to be done to help.
Staff arrive in groups, usually way more people than would ever be needed to handle a crisis. The client or persons who are having the crisis begin to change levels of behavior by just seeing people arrive. They do not always calm down and regain control just because they are outnumbered – some see it as more of a challenge.
Attempting to use CPI (Nonviolent Crisis Intervention) training skills that more than 6 million professionals—spanning from facility administrators to front-line mental health providers to school teacher—have participated in to learn how to resolve conflict at the earliest possible stage.
Sometimes it works perfectly and the situation is taken care of within minutes and then there are times when it seems like the aggressive act is never going to end.
I have seen nurses get scratches, bruised, punched, kicked, and of course called ever name in the book and more. For the seasoned nurse or staff members – the behavior is just a crisis. For the new nurse or new staff member who has never see such a violent act in the work place can become extremely stressful.
Watching the stress level of a police officer who has changed uniforms to became a nurse get her hair pulled out in chunks – opened my eyes to the seasoned staff who has passed experience in highly trained and very skills areas are not immuned to the voilence.
Mental health has a large turn over in staff, 80% of the turnaround is caused by the seclusion and restraint they have been involved in, witnessed or the fear of being involved in. No one wants to be attacked or work in a small area with someone so unpredictable.
Mental health nurses/staff have little to no protection other than the CPI skills they have learned to use for the least restrictive and less violent intervention. Effective communication skills, in a crisis is hard to maintain at times when speaking to someone who is in a violent rage. Nurses have shown great anxiety after a crisis is over. The thought of going day to day and not know what is about to happen or knowing what can happen causes nurses to seek other employment.
After working for the last 22 years in mental health, burnout happens before the seasoned nurse even sees it happening. I realized how burnout I was once I moved from the night shift to the day shift in a less violent environment. Nurses who still enjoy taking care of and serving people look for other ways to use their skills and still be able to help the human race. Many nurses I have worked with over the years have worked more than one job, Full time at one job and PRN at another one. It is used like a safety raft for when they cannot handle the stress at one job they can move over with ease to the part time job.
I knew it was time for something else but I still enjoyed working with the clients that I served – so I began transitioning out of nursing working from home part time instead of with another boss. The results have shined in the level I have been able to use my nursing skills, help people, see results and enjoy the calmness of the change.
Let me show you how I am transitioning – Click this link – Learn how other nurses are changing people one oil at a time, changing lifes with knowledge they were not allowed to use.

Facebook comments:
comments