In regards to multi-level-marketing, should people be skeptical? It depends on who you are talking too. The moment someone says it is easy, no selling, no work, just sit on the beach and watch the money come pouring into your bank account. Run like someone is chasing you.
Multi-level-marketing is like anything worth working for is work – it takes time to build and you will be selling a product of some kind. Gaining money is an exchange of something and you have skills to learn. You need to learn how to find out what people need, not what you want them to have. It is much easier to sell someone a glass of water who's thirsty than someone who isn't.
Do you need to invest a lot of money or resources to start a business as a network marketer?
Again, it depends. When you invest into a business there will be tools you need to make it run. You can buy a car but without the gas and oil, it will sit in the driveway.
I see so many business builders who are not building a list for their business or think that Facebook is their list. Your list consists of people who have asked for more of your information and have raised their hands to what you offer. Just because they are on your list doesn't mean they will buy from you but they relate to you.
Your job doesn't end there. Content marketing is very powerful for your business and this is where most people slack off. Content is your business gasoline. If you are online using social media or a blog people need information or "content" to be able to learn more about the benefits of what you offer. Otherwise, they don't know who you are or what you have.
Your BLOG is also where you provide your target market with content, videos, articles, blog posts, etc. that gives your prospects solutions to THEIR pains… For example, if you have a home business, one of your best target markets is people looking to start a home business and/or already have a home business. And their biggest challenge is LEADS and MONEY. So your BLOG is where you will create content that gives your target market what they want. This is Attraction Marketing in motion… giving people what they want, provide value, create content, build trust & relationships, and you will PROFIT.
It's time you 
BUILD YOUR BRAND
 with your blog… it is the #1 FASTEST way to become the Leader and the Authority in YOUR Niche.
With a system,
you get your very own hosted blog with 1 click that 
YOU
 own with incredible enterprise-level hosting, security, and speed that would cost you hundreds of dollars per month if you weren't a member. You can have your blog set up in no time.
Is network marketing a pyramid scheme?
It depends on what you think a pyramid is and the way you approach the business. When you think that every breathing and talking person is your next hot prospect people lean back and look at you as a slimy salesperson who wants to sell them something they don't need or want.
Network Marketing is perfectly legitimate, legal and in fact endorsed by some of the biggest names in finance. Most people have heard the term but have no clue what it means, so they group everything into a scheme. There are people out there with a Ponzi scheme and will scam anybody they can. Network marketing companies have some of the strictest laws and are very careful what they allow distributors promote, say or market their business.
The best route to take in network marketing is to brand you and what you do best. If you are someone who has multiple talents teach what you know.
Build Authority in Network Marketing
If you have been trying to get your name out there and you feel like you are standing in mud, not getting any attention, respect or income you need to drop what you are doing and listen up.
Most bloggers, 81% make no money or less than $100. Seriously you could make more money picking up change off the ground in the mall parking lot if you keep doing what you are doing now. $100 spread out over a year is like .33 cents a day.
Most of the things you have been taught about building a business are so far off base that you have reached the disbelief that network marketing works or that you have what it takes.
Can I just say both of those are wrong, You just need to learn new skills. Most content marketers aren't making any money and you can easily make 6-figures with a blog.
I am not kidding… I have done it.
Just in the last year alone my expertise and influence has expanded beyond my niche and is now being recognized by major players in the online marketing world. Just a few short years ago I couldn't say that.
It doesn't matter if you have failed in the past if you are open to learning how to make shifts and tweaks for it to work now.
The money is great, of course, but building authority isn't just about the money. It's also about…
…earning the respect of your family, friends, and peers…
…proving all those people wrong who said you'd never make it…
One of the biggest mistakes people make in their network marketing business when they are building content marketing is not asking people to buy their stuff. You can't pay bills with nice comments and people sharing your post. You can when they become your customers.
Become a credible expert in your niche, no matter what business it is, even if no one knows you right now.
Here is my suggestion:
If you are trying to wing it in your business or learn from watching Youtube videos, listening to people who have not had success with network marketing or content building you are flat out going to struggle. When you joined your network marketing company you were looking for something. More like running from something like a 9-5 job or need more money in the bank. You were looking for a transition.
If you are not paying for someone to teach you what you don't know you are most likely this time next year going to be close to the same position. Get a coach, get around people who know what you don't know. The moment you say "I can't afford it." or "That is too much money" you have already lost. Reaching in your pocket should burn just a little to get to the next step in your business. If building a business was all nice and comfortable everyone would be in it.
Mindset is everything!
In the beginning of the business, all you see and focus on is what you are sinking into the business. Rarely do people account for the time they have put into it but the dollar sign. If you are not seeing dollar signs going into your business you aren't seeing anything coming out of your business. – Fact – sorry (not sorry) that was painful.
People go to college every day and pay out the nose to attend and it never seems weird but if you say you should spend money to learn how to build a business people freak out. Makes no sense to me.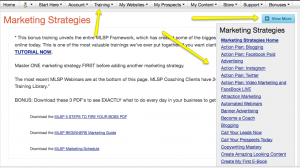 Start here: Learn how to generate leads for your business, how to produce content marketing by using a blog and making your business show up and produce. If you do – this time next year can really look different than it does now.
SHARE – COMMENT – LIKE  this post!
More Ways to Connect With Angela
Follow me on Facebook
Kool pictures on Instagram
Opinions and Such on Twitter
Resume' on LinkedIn
Resources I use: Resource Link
Highly Recommended Business Marketing & Blogging training 
If you enjoyed what you read, from this free training page, please feel free to share, distribute, and post this content so your team can benefit from it too. All that we ask in return is that you attribute all content to Angela Brooks, and post a link back to our website at AngelaBrook.com/blog Thank you!
http://angelabrook.com/people-cant-duplicate-charisma-but-everyone-can-use-tools
Facebook comments:
comments