Nursing Programs give you the basics – you learn nursing
once you graduate.

You have just graduated from a wonderful nursing program. It was a long road and an amazing feat to have completed your goal. Your college (or university) prepared you to take your state board exams and maybe even "fly" through them with great success. You may have graduated at the top of your class. You are ready to step into your career and be amazingly successful…or are you?
When I
Janet Izzo
, graduated from nursing school, I was "thirty something" with three children and a husband. I had experienced life and felt fairly confident in my skills. I had "tied" with another nursing student for "first in class" and was pretty proud of myself! I passed the state boards on my first try and had landed a job in a local hospital. My dream had come true! I was an RN!
As I was oriented to my new position, I realized very quickly, I had a lot to learn. The first few months were overwhelming as I learned the hospital protocols and figured out how to sleep during the day after staying awake all night on "night duty." I balanced 5-6 patients on an eight hour day shift (7-8 at night) and learned how to communicate with the doctors for the first time. Never mind the fact that the paper work (now computerized) literally took hours!

After three years of med/surg
nursing
, I decided it was time to pursue my real dream of working with moms and babies in the field of obstetrics. I eventually landed my dream job at a large county hospital on the OB unit.
It only took one day of working in an inner city hospital to realize I knew nothing about people from other countries or cultures. I knew nothing about caring for those who were homeless or struggling with drug and alcohol addictions. I knew nothing about gangs or angry people or children having children!

Why hadn't I been exposed to this in college or at the very least, told about it? Where was the book I could read to teach me about these complicated social situations? Well, there wasn't one. Unfortunately. I was baffled. I couldn't believe it.

Eventually, I learned my trade. In fact, I eventually flourished. Working with families in the specialty of obstetrics was a dream come true. Working with women from every country, nationality and social situation was challenging and wonderful all at the same time. Through in-service classes at the hospital, I learned how to care for these women as they needed to be cared for.
My colleagues
were angels and teachers to me. What I couldn't learn on my own, they taught me.
After working in a
county hospital
for the majority of my career, I decided to write the book that had never been written. It was time for the stories to be told that would one day help nurses understand the many social situations that are presented to us during the course of our careers. If the colleges and universities didn't have time to teach about the reality of working with real people with real life problems, then I decided to make it my own personal goal to do it.
"Hotel Hennepin"
chronicles the joys and trials of a nursing career. The stories are poignant, sad and hysterically funny but all are amazingly true! The book takes you behind the scenes to give a real look at the nursing profession through a nurse's eyes.
I remain grateful to the colleges and universities that continue to educate and prepare nurses for their careers. Perhaps now, with the help of "Hotel Hennepin," they will be even better at what they do!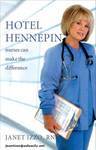 Janet Izzo
is a registered nurse in the State of Minnesota and a member of the Minnesota Nurses Association. She is an inspirational speaker and author of "Hotel Hennepin" which chronicles her experiences working in a large county hospital in the heart of Minneapolis. The stories Janet relates in Hotel Hennepin are poignant, sad and hysterically funny, but all are amazingly true! She is passionate about the nursing profession and she now speaks to nurses and nursing students across the nation on the topic "Nurses Can Make the Difference."
Facebook comments:
comments