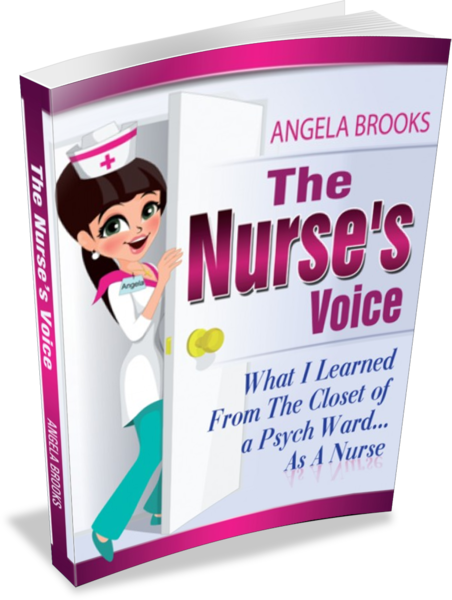 Angela Brooks, a nursepreneaur who works to help nurses take control of their lives without quitting their day job, recently published a new book. 'The Nurse's Voice,' is a collection about everyday life as a nurse in a psychiatric ward.
RUSSELVILLE, KY — Angela Brooks, a nursepreneaur who loves helping nurses take back control over their lives without giving up their day job, publishes a new book, 'The Nurse's Voice, What I Learned From The Closet Of A Psych Ward…As A Nurse.'
The book, which is published in PDF, Kindle and hard copy versions, is available from Brooks' website. 'The Nurse's Voice' contains a number of stories meant to give readers a true look into the day to day life of a psychiatric ward nurse and how she deals with the stress at work and in her home life.
 "Nurses suffer a very high burn out rate and I hope that they can recharge and renew themselves by reading 'The Nurse's Voice.' After spending more than 20 years as a nurse in a psychiatric ward, I have some valuable coping strategies that can help burnt out nurses take back control of being a nurse without giving up their family to holidays and bad work schedules. I want to help nurses remember why they wanted to become a nurse in the first place and empower them while teaching them tips on how to distress when they're home," said Angela Brooks (http://angelabrook.com/).
 Brooks also has a newsletter that is distributed throughout the USA and 17 other countries. It contains stories of how nurses make a difference in their patients' lives every day by simply listening and making them feel valued.
 In addition to her work as a mental health nurse and a support system for nurses everywhere, Brooks is the executive director of Young Living Essential Oils. The oils are known to provide help with a number of health concerns, including allergies, weight loss, insomnia and more. Brooks uses social media to market Young Living Essential Oils instead of other, more traditional direct sales methods.
 "Working from home and creating a passive income stream has done wonders for my family. It's allowed me to replace half of my nursing income in less than six months. If you're interested in taking advantage of a unique, proven work from home opportunity and help people without giving up your day job, contact me to learn more about Young Living Essential Oils," said Brooks.
Get your copy today: The Nurses Voice

 About Angela Brooks: Angela Brooks (http://angelabrook.com/) is a mental health nurse and educator who has worked in a state funded mental hospital for the last 22 years. In 'A Nurse's Story,' she shares not only what she's learned from her patients, but what everyone can learn from those considered to be at the margins of society. However, it's also a story about nursing, and how a nurse healed alongside her patients.
Media Contact:
Angela Brooks
Russellville, KY
Skype: AngelaMBrooks
Twitter: http://www.twitter.com/angelabrooks
Facebook: https://www.facebook.com/angelambrooks
Keywords:
The Nurses Voice http://angelabrook.com/the-nurses-voice-2
Nursepreneaur http://angelabrook.com/
Facebook comments:
comments