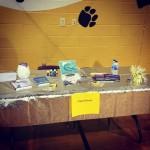 I was invited to speak to a group of kids 3rd graders through 8th grade for college career day. Of course the 8th grade kiddos were a little more focused on what they wanted to do and if they even wanted to go to college. At least at this point of the game.
Not one kid that came through (over 200) knew about Network Marketing or that it could be a career path to take serious. I ask if they had heard of Pampered Chef, Avon, Mary Kay, Amway to see if I could get some lights to come on of a product name they had heard before. Of course with that age group – most them had not.
What got the eyes to light up was when I ask if they had heard of facebook, Twitter, Pinterest, Instagram – the heads started nodding and the eyes were open wide, they leaned in. They either had an account or had seen their parents platforms. When I explained how I used them in my business to market for the Young Living company they became very interested.
Network Marketing got a bad rap long time ago when something happened with the Amway company (no I don't know the details) – people think that it is a scam when actually you network daily with people around you about products you use. You tell a friend or someone you have a conversation with multiple times a week about a store you shopped in, a place you ate or a good deal from a certain store.
The difference in sharing it by word of mouth and the way I market with social media is – the companies I market the products for pays me a commission for marketing for them. It was a nice enough commission that I retired to work network marketing full time. (well about 4 hours a day)
These kiddos were so fun to talk too. They were interested in being able to become their own boss but over half of them never even thought about the option of working for themselves. The bounce in their step, the dreams in their head and the goals they have set for their own future energized me.
Each table set up for career day, had something to give away or to put in their bags they carried from table to table[pins, pencils stress dolls, key chains]. One young man ask me "So what are you giving away?" I pointed to the Peppermint and Lemon diffuser. I responded, "Free sniffs" he smiled, and said, "COOL, I am getting three!" From that point on that was my punch line. I am giving away an opportunity to be your own boss and free sniffs. We had lots of giggles at my table.
Aromatherapy was a hit for the young minds that came bouncing in today – sharing my knowledge of a skill they can use in their future. Within that 200 group of young entrepreneurs someone will be in network marketing successfully because of being exposed to the opportunity. Now that …. is exciting.
Have you ever worked in Network Marketing? Tell me below
Learn more about network marketing using social media – click here for the mini series
Facebook comments:
comments