If you are not using Instagram, let me tell you why you should be using it.
First of all, I am a picture nut. I enjoy taking pictures of my travels and daily adventures. For me… it is FUN!
This isn't something to overthink. People love to look at pictures, it brands who you are and shows the things you like to do. Which makes it easier for people to get to know you. You don't have to be a professional photographer because Instagram has really cool filters that can help adjust the lighting and edit your images to look pretty darn professional with the app.
Now Instagram has added "Stories" where you can share your life in real time with a video or images. You would't want to post on your newsfeed multiple times a day but you can go live and post the behind the scenes things that you still want to share that will disappear in 24 hours.
People like to know you are Authenticity and a real person. This gives them that peek inside with short videos and not just pictures that can be cropped and edited to make things look a little fake sometimes.
If you are not following me on Instagram do that now. You can learn a lot about me from my Instagram page.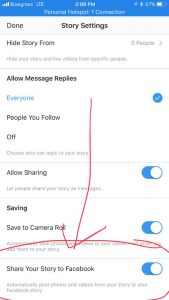 Use your stories to direct people where you want them to go with a short video. If you just wrote a new blog post or you are going to teach a new webinar you can go live and tell your followers on stories.
A new feature that was added to your Instagram settings now allows you to cross-post to your Facebook stories with one post. Not only are you sharing with your audience on Instagram but you can now reach Facebook stories as well.
If you have not started using Instagram Stories I hope you will start today.
SHARE this post – COMMENT let me hear from you – TAG your team!
More Ways to Connect With Angela
Follow me on Facebook
Kool pictures on Instagram
Opinions and Such on Twitter
Resume' on LinkedIn
Resources I use: Resource Link
Highly Recommended Business Marketing & Blogging training 
If you enjoyed what you read, from this free training page, please feel free to share, distribute, and post this content so your team can benefit from it too. All that we ask in return is that you attribute all content to Angela Brooks, and post a link back to our website at AngelaBrook.com/blog Thank you!
Facebook comments:
comments