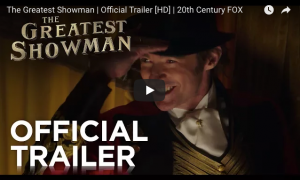 I don't usually dream about movies I have seen or wake up during the night thinking about a blog post. However, After seeing the movie "The Greatest Showman" at the theaters I could not stop thinking about P.T. Barnum's business strategy and what a networker he was.
In People magazine they said: Phineas Taylor Barnum, better known as P. T. Barnum, is best remembered for the famous traveling circus depicted in The Greatest Showman, but Barnum spent much of his life delving into other ventures like newspapers, housing, literature, and Connecticut politics. Barnum first started in show business with the Barnum American Museum, which became popular among the masses for showcasing peculiar attractions like the "Feejee Mermaid" and "General Tom Thumb."
I took three teenage boys with me to see the movie, not sure how they would respond to a musical but they loved it and never blinked an eye the whole movie. Especially when they found out it was a true story about a real circus.
The thing that has wowed me about this movie was the networking he did for his business. He came from nothing. His family was so poor that when his father passed away as a young boy he ended up in the streets. In the 1800's they lived hard lives already and losing his one family member didn't give him a helping hand in life.
He had a dream to be the Greatest Showman.
At the age of 25 he had a dream so real he could see the colors but he didn't have the money to bring it to life. I am not saying he made some of the best choices in how he got the money but he never stopped stepping out of his comfort zone to make things happen.
That is the death of most people's dream – your comfort zone's.
Network Marketing is the lowest overhead business you can get started and make money the fastest. It's not without doing the work like so many have portrayed in the past. There are skills to learn and you must get out in the field to make connections. Which can be uncomfortable but also profitable.
P.T. Barnum didn't start his circus until he was 60 years old, five years after his museum burned to the ground. He had other business connections before the circus came along but his biggest success came with the circus at the age of 60.
I know someone is going to mention the way the animals were treated or how he used the freaks to make a show (and a family) I don't doubt any of that to be true. In the 1800's people had different value system than we have today and I would even say the values today are not high on the pedestal either. I don't see him as a hero or a squeaky clean businessman. What grabbed my attention was how he remade himself from his humble beginnings as an impoverished country boy into a showman, and as he said "The greatest showman". He always branded who he was and corrected people who missed the point.
Due to high operating costs forced the Ringling Bros. and Barnum & Bailey Circus to close on May 21, 2017, after 146 years of uninterrupted operation. The circus shut down just seven months prior to the movie's release.
Build your Brand
Barnum was an entrepreneur from an early age.
Barnum didn't go into the circus business until relatively late in life.
He spent years writing and updating his autobiography.
To be in business you have to build your own brand around who you are and the people you want to see you. You have to be louder and more valuable than the person beside you. When you sit in the dark and claim to have a business no one will hear your message "Without promotion, something terrible happens — nothing!" P.T. Barnum".
You are the best-kept secret in your business. People start with a product but try to leave themselves out of the market. You are the business.
What I enjoyed most about the movie besides the great music, was how P.T. used his network of people he knew to be introduced to people he didn't know. It's not who you know right now but who someone you do know can refer to you. Another one of the largest pieces of business that are left out is asking for referrals.
My business brained turned on watching this movie and I could relate it to network marketing because of the way he was able to connect with people.
At the end of the movie is also very clearly shows that you must remember why you started and not forget the people who helped you get there. At the end of life, it is not about the money, even though that is why people go into business, but the love and connections we make in business can turn into lifelong friendships, family, the journey means more than the full bank account when there is nothing else left.
If you don't have skills like P. T. Barnum had and you want to learn how to leverage your business education you need. Join us here and test it out
SHARE this post – COMMENT let me hear from you – TAG your team!
More Ways to Connect With Angela
Follow me on Facebook
Kool pictures on Instagram
Opinions and Such on Twitter
Resume' on LinkedIn
Resources I use: Resource Link
Facebook comments:
comments