Maya Angelou … She lived a life as a teacher, activist, artist and human being. She was a warrior for equality, tolerance and peace. Passed quietly in her home before 8:00 a.m. EST May 28th 2014
How many words have we heard this women speak of encouragement born in 1928 in the middle of brutality of racial discrimination. She could have used that in her life to roll in and complain all that happened to her…. and she had some stories that she shared.
She choice the road as an activist and a warrior, giving courage.
She was known by presidents, celebrities, and nations around the world.
It took her death for me to really read her biography and learn more about her as a person than the women I was exposed to on Oprah Winfrey show.
Her website reads:
Dr. Angelou has served on two presidential committees, was awarded the Presidential Medal of Arts in 2000, the Lincoln Medal in 2008, and has received 3 Grammy Awards. President Clinton requested that she compose a poem to read at his inauguration in 1993. Dr. Angelou's reading of her poem "On the Pulse of the Morning" was broadcast live around the world.
Dr. Angelou has received over 50 honorary degrees and is Reynolds Professor of American Studies at Wake Forest University.
Dr. Angelou's words and actions continue to stir our souls, energize our bodies, liberate our minds, and heal our hearts.
—————————
On the same day close to the same time Maya Angelou (not her birth name) passed away a fellow co-worker of our hospital also left this world. She was a kind soul and gentle spirit as well. It was a day of leaving this earth because the mission was done here for them. They had served their time.
Which brought me to this thought….
What kind of impact and I going to leave behind?
What kind of impact are you going to leave behind?
As a nurse of 25 plus years I have met and taken care of a lot of people as well as held the hands of lots of souls as they left this world. I may never know the impact I have had on any of them but there was one made.
Now I am a Business Incubator connecting with people around the globe teaching and mentoring in business. Who knows the impact it may have on someone who connects with me.
I ask my readers this question "Why do you follow me?"
I was wow'd by the respond and here are just a few of them for you to see.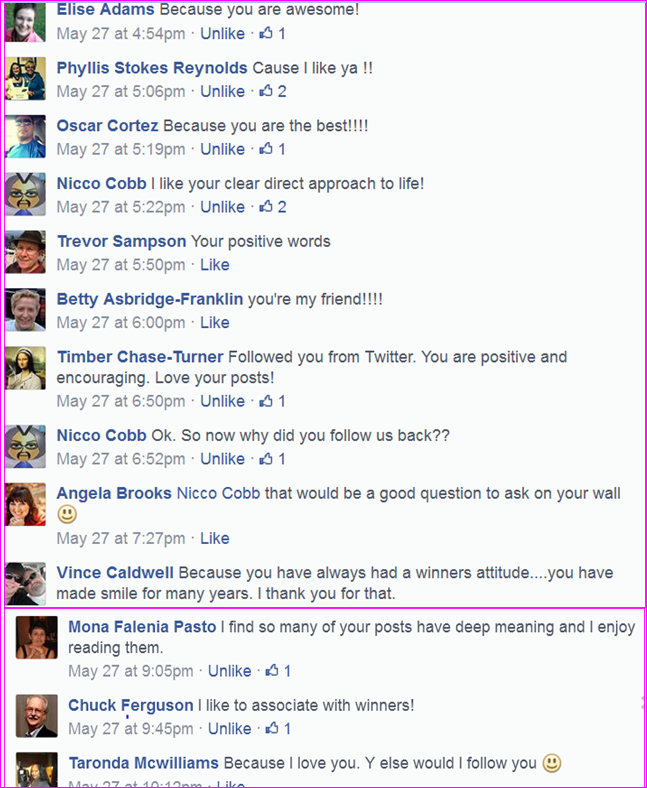 What kind of impact are you going to leave behind? If you have a dream that you are not moving toward you are wasting a gift that was given to you. You have the dream because you have all the tools it takes to make it work…and no the path to it will not be straight – simple – or easy.
"A person is the product of their dreams. So make sure to dream great dreams. And then try to live your dream."
Now I am going to ask you … my reader…. "Why do you follow me?" Come and tell me on my facebook wall…or if you're a more private person in private message. Come tell me.
~ When you learn, teach, when you get give ~Maya Angelou
Facebook comments:
comments