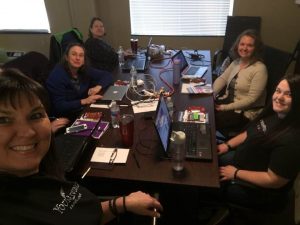 This past weeks workshop I had the privilege of speaking to 5 team leaders on the Kentucky team. They drove as far away 3 hours to 15 minutes to get to the hotel for the mastermind for the day.
We talked about what they were doing now to get results in their business and what was not working in their business. Most people in network marketing start out with home parties and quit when they get frustrated with the results not knowing there are other ways to work your business besides just home parties.
Do home parties work? Yes. Do people have time to do a party a week? Not usually.
In the workshop we talked about building your brand and talking about topics you enjoy speaking about plus looking for people who are already looking for you and what you offer as the go-to problem solver.
It makes business so much more fun when you are talking to people who aren't running away from you.
Each of these strong business women who entered them room walked away with a new business plan and a new idea of how to run their business to either included home parties but also the strategies for online marketing.
Within 24 hours after the workshop, I got this message from one of the attendees Genean "I used what you taught and today I have 38 new leads with my post, I have gotten 7 leads so far into my Aweber and all 7 added to my challenge group that starts Monday. Hmmm. Must be something to this Attraction Marketing thing. Lol"  Take a peek at the tool she used to get those leads
Now that is what I call learning something new and putting it into action. I can't wait to see what this lady does in the next year.
Tammy also went home from the workshop and began using the Facebook strategies immediately and found how much easier it is to talk to people where they are in their life instead of trying to get them to like what she wanted too. She found two new customers who needed her products.
We talked for 6 hours barely taking a break during the workshop even while eating our lunch we still chatted about the different ways they can market their business versus home parties. My home party is on Facebook – if we aren't connected click here "follow me" and say hello.
If you have realized you don't have a solid game plan for your business and you are ready to get things in order. Set up your basic foundation for your business. Click here to get 50% off the Freedom Foundation that we talked about in the workshop. You will need a special code for this offer: 50off
Do you know someone who wants to crush it in their business? Send them this post then COMMENT let me hear from you.
Connect With Angela
Come tell say hello on Facebook
Kool pictures on Instagram
Recommended Resource Link
Facebook comments:
comments