Business at home can be lonely. No matter how much you like alone time there will come a day you wish you had people around you. (At least for a little while)
I have traveled to events all across the United States to learn more about my business and to build a team that is connected online and in person.
It is interesting to walk into a room full of strangers and someone walk up to you and call you by name (as long as they are not stalkers) and introduce themselves as someone who has followed your email list, your social media post on Facebook, Twitter or Instagram.
I had one lady I had sort of met at an event one time that ran into me again in Baltimore at another event.
She said. "Hello my name is ____________ and I am your best stalker. I follow you on every platform and read everything you post." (I am sure she is reading this and laughing right now) We had lunch that day and chatted late into the evening.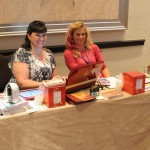 Kayla Howard – one of my top earners in Young Living Essential Oils. We connected at a business event and traveled to several other trainings after that plus became business partners – without business I would never have met Kayla because she is from Idaho – a place I have never been.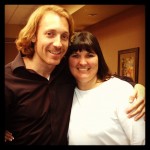 Eric Walker – I met when I taught a social media training in Minnesota two years ago. We have stayed in touch as a business connection. Had it not been for business I wouldn't have met Eric because I had never been to Minnesota – or had a reason to go there.
Business online allows you to meet people from all around the globe – literally. Using Social Media, and your Blog you can connect with people that you would never have the chance too,had you waited to meet them face to face.
In the 3-day Mini Series I teach you how not be a slimy person on social media. Social Media is a relationship building platform – not a place to puke on people how to get into your business. It is also not to used to stalk people when they clearly don't want to do business with you – don't burn those bridges with people that you could connect with later for another business adventure.
Learn how you can talk to people and get them to ask YOU what your doing and how they can get more information. Business becomes fun when you have people emailing you and sending messages asking for more information. Then you can talk about your business without being slimy.
Click here to get your free three days of free social media training.
What is your favorite social platform? – Tell me below.
Facebook comments:
comments