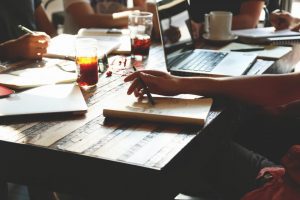 I am sure if you have read the title to this post it got your attention for a reason. It was because you wanted to see my comment or maybe because you could be scratching your head about a business fail.
If your business is failing it is easy to blame someone else. The bad part it is probably your own fault. 
I know that is pretty harsh.
It is so easy to point our fingers at someone else and say they are the cause of your lack of skills or lack of doing the work you know you need to do.
I don't wake up every single day fired up to run to the laptop and get busy. Some days it takes two cups and coffee and two hours of sitting in my robe before I get moving toward the gym and then to my laptop.
The difference for me that you may not be doing is, there are never NO days of no work for me.  I do something in my business every single day. Mostly because I enjoy what I do and because I know if you are not in front of people they forget you really fast.
You don't have to be like me and the good news is you won't be. You must know you need to provide content to your business readers more than once a week. You must have more than one status update on social media and you must do more than one facebook live to expect any type of fast results.
At the time of me writing this post, I have been working my online business for 7 years – SEVEN! I am on Facebook every day, I post a picture on Instagram every day. I write a blog post 2-3 times a week to teach a point like this one. Come follow me to see for yourself.
Every blog post I write gets emailed out to my list on Aweber. I don't assume anyone will ever come to my blog without me pointing to a link for them to go read it. Even doing that I don't assume they will actually click the link (because somedays clicking a link is hard ) If you are not on my email list you can CLICK THIS LINK  to add your name and email so you get the blog updates.
Prevent your business from failing
Do the work you know you have to do. If you don't know what you need to be producing you will want to read all the way to the bottom of the page or just go here to get some skills
Business, in general, is not easy. There is no shortcuts, half cuts or cheat codes to make it happen for you any faster.
Does business suck sometimes? yes
Will there be days you don't want to do what must be done? yes.
In business, you must talk to people. You must find out how you can serve them right where there are. Meaning, find out what they need not what you want them to have from you. Yes, I want to build my network marketing business to the very tip-top of the mountain. Mountains are steep and they take time to climb. Even climbers have to stop to take in the view as they climb, shift when the oxygen gets less and learn how to keep climbing when they notice no one is around them because they have climbed higher than most people are willing to go.
To be found we have to give Google something to show people about us. It is called content.
In general, people will go to Google to look up a business before making a purchase to learn more about the business, the company, or the person. If they can't find content to read they move on pretty fast and will connect with the person they do find who has the same information they were looking for with you. I know I have done it and I am more than sure you have.
Take control of 'your' business
Your business is your responsibility, not the person who exposed you to it. I can provide the opportunity to get you started and I can point to all the tools I use to market my business. I can teach you what I do and how I structure my day. What I can't do is make you do the work.
I believe in systems because I don't want to be the one and all for every training platform. I like to leverage other people's knowledge and share them with people I know it could help them if they took the time to watch a video, read a blog post, like or comment on my social media post.
When I started in network marketing I knew nothing. I knew how to clock into my job,  diffuse a hostile situation. I can perform CPR if needed, counsel with patients, administer medication, and work in the medical field. I had no clue how to work or market a business.
I had to learn many new skills so I found someone to learn from. I also understand that not everyone can afford one of the finest business coaches like I have in Mr. Ray Higdon. He says. "Recognizing the value you are bringing to people's lives and the power you hold in your hands to change their fortunes on so many levels is so important if you want to succeed in this business."
Now it is up to you
This post is full of the word "I". Because it is talking about who had to do the work in this business to see results. If you are reading this. It is speaking to you as well. I can help you but you must roll up your sleeves.
If you have skills to learn and want to leverage your business join the university right now to get the education you need. Test it out for 14 days 
If you aren't in business and you want to work with me lets get you started today. 
I have mapped out my simple system to build any kind of online business to six figures with steps in each module covered you will need to put in place.
SHARE this post – COMMENT let me hear from you – TAG your team!
More Ways to Connect With Angela
Follow me on Facebook
Kool pictures on Instagram
Opinions and Such on Twitter
Resume' on LinkedIn
Resources I use: Resource Link
Generate High Quality Leads for your Business
Facebook comments:
comments