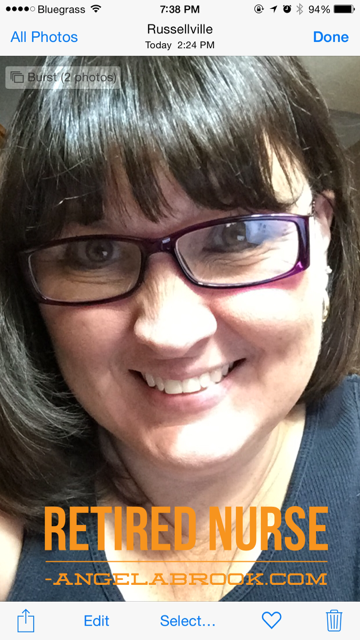 As of this Monday, December 19th, 2014 I'm Officially Retired from Nursing, to work from home or wherever my computer has the internet. I am now a Network Marketing Profession.

#1 I didn't have an alarm go off at 4:30 am
#2 It is my first Monday as a retired nurse.
Friday I had lots of emotions but the one that over powered them all was the excitement. I have worked a job since I was 14 years old. I have had a dream to run my own business since I was at least 18, even though I didn't know what type business.
Walking out of my nursing job I left behind someone else's schedule, time clock, vacation schedule and all those ideas I shared that no one would put to use. Today as I walk into my own office I am 100% sure no one has been in my office space going through my desk – stealing candy out of the jar, water out of the refrigerator and going through papers I had on my desk.
I am leaving behind 25 years of connections with co-workers, patients that I have known for all those years and stress that caused migraine headaches and shoulder pain.
This is the first time in 25 years that I have had the last two weeks of the year off for the holidays.
I am leaving behind people who hate their job to the point they spew venom at anyone they speak too but make no effort to change the pattern that discussed them. Some of those people I will miss – some I am glad are in the past.
My nursing hat is worn out, burnt out, stressed out and done. You know it is time to leave when you feel exhausted walking in the door at the beginning of the day and nothing has even happened.
As a supervisor, of new employees my day started with issues that people bring with them. "I was only a minute late", I forgot my badge, my keys, I left the iron on at the house I need to run back home, I need the day off" excuses that are time-consuming and just that – excuses.
I am leaving behind patients who have changed how I think, how I feel, how I respond to life itself and to people. The dark cloud that hangs over each one of them as they stay under the roof of mental health. Some getting well enough to go out of the hospital for a little while and some have a goal to never leave.
The Beginning…
The beginning …… begins today. What an emotional roller coaster this has been preparing for the next part of life's journey. Today I am retired from Western State Hospital after 25 1/2 years. I have met some amazing people – some really weird ones and then there are the patients that taught me so much about life and how to view things from another side of the story. I have talked to prisoners, homeless, rich, murders, rapist, child molesters, most wanted, house wife's, master degrees, inventors, drug addicts, alcoholics, personality disorders, stalkers, self-abusers, racist, pastors, strippers, prostitutes, the abandoned, lost, lonely and starved for attention. Each one taught me something.
I have been chased, spit on, punched, scratched, peed on, had juice thrown on me, cussed (daily), my shoulders cried on, saw demon possessions, witnessed the results of suicide, had coffee with a murder, held the hand of a scared dying man, hugged a beaten women, cried with a scared teenager, listened to stories about life that gave me cold chills, laughed until I cried, laughed until my sides hurt, danced with a man with one tooth, sang, enjoyed Christmas, brought in many new years.
I worked with co-workers who I have rolled in the floor with an aggressive out of control person, we have laughed – traveled through many mental health changes, witnessed things that no one outside those doors will ever understand. You have a bond that is different that I will treasure forever.
Then I had the privilege to share my years of experience with new staff coming in and prepare them for their adventure inside the walls of mental health.
Tomorrow I retire
Tomorrow….is a brand new day and I am thankful. *slowly closing the door*

Today is that new day… not to sit on the front porch and rock. I am opening a new door with many new adventures inside. I have worked hard for the last 4 1/2 years to come to this day and it is here. The difference in me and some of the ones whom I left behind is that I believe there is more than clocking into someone else's hour clock.
As people came to wish me well and give hugs and finish good byes. The words that caught my hears were "I'll have to work until I am 75." – "I'll never be able to afford to retire." – "The only way I can stop working is to get ready for my funeral."
I hope that is not you. There is a better way and time freedom is real. You have to want it bad enough to learn all the options that you have.
SHARE – COMMENT – LIKE  this post!
More Ways to Connect With Our Free Training Resources:
Join Our Facebook Community
Follow Us on Instagram
Get News Updates from us on Twitter
Follow Us on LinkedIn
Access the Digital Training Vault
Recommend Business Training Mastery Community
My recommended Essential Oils
If you enjoyed what you read, from this free training page, please feel free to share, distribute, and post this content so your team can benefit from it too. All that we ask in return is that you attribute all content to Angela Brooks, and post a link back to our website at AngelaBrook.com/blog Thank you!
Facebook comments:
comments