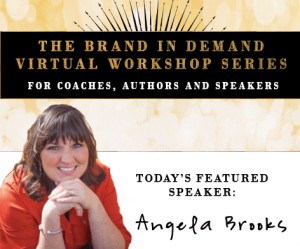 I was invited to speak during an online event called the Brand in Demand Virtual Workshop Series by its founder and host, Sherry Mirshahi-Totten. She's a Brand Strategist, Huffington Post Blogger, and Founder of Make Your Brand in Demand.
That's because this will help established entrepreneurs turn their personal brand into a movement so they're not only impacting people on a bigger scale but also making more money.
This free virtual workshop series starts on October 19th so do register now while it's still fresh in your mind. You'll get one training each day for 21 days.
Go to: Brand in Demand Link 
I'm sharing my best insider tips on how to build a relationship online without burning out. My interview with Sherri totally rocked and I can not wait for you to listen in. Not only is it fun to talk to Sherry but she has such good input for making your brand in demand. I had the privilage of working with her a few years ago and it was well worth the time.
The summit includes presentations on other juicy topics including:
Using Periscope to get people interested in you as a speaker, author or coach
Getting PR for your business so you can spread your message faster
Mindset secrets to make bigger leaps in your income
Style secrets you need to know to LOOK like a Brand in Demand
Web site tips to convert more browsers into buyers
Proven strategies to use psychology to be more persuasive
Using Google hangouts the right way
How to grow your Facebook group faster
Sales conversation advice
Getting corporations to sponsor your events and projects (i.e. FREE money from the big companies)
How to use content to seize your place as THE expert in your industry
And much, much more
And the best part?
I along with the 20 other summit mentors will be giving FREE bonus gifts to help catapult your brand.
And there's a dedicated Facebook group for the event as well so you can network with like-minded authors, speakers and coaches.
What makes this summit different is that the mentors are committed to providing action steps and advice you can implement immediately.
Each interview is actually a mini-workshop so you'll learn something you can apply right after the workshop ends that will move your business forward like nothing else.
It's a not-to-be-missed event and I hope you'll reserve your FREE spot here:
Here is the link to get your mini-workshop 
If you want to get mentored by well-established and successful authors, speakers and coaches, then I do hope you'll join me.
It's going to be an amazing event!
Facebook comments:
comments