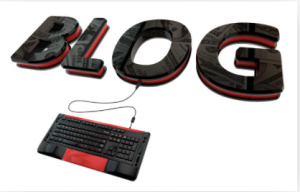 For any business, blogging is to build your list and to build your community. That means in order for a blog to work for you there has to be a "lead magnet" or a "free offer" to get people to come into your list where you can build that know like and trust relationship.
People stumble on what to use as their free offer when it is simply the answer to what is keeping people up at night. Your target market is the people who email you questions, who follow you on Facebook and the "thing" they are afraid of the most – your free offer gives them the answer to their question.
I see blogs every day that doesn't use a call to actions, which tells them what to do next.
People are looking for answers and they fell on your blog but so many blog posts don't send them to the next step. That alone is a huge disconnect and you are losing money without one.
If you do not have a community or a list. You have to begin somewhere, you are going to have to start laying the foundation for your target market to find you. Otherwise, you are only talking to people within your arms reach.
A blog allows people to find you on Google and it will do repeat presentations for you like who you are, your story and how to connect with you on social media. You can send someone to your blog and they can get all that information all in one spot.
It is also your HOME base. Where you can send people to read articles you have written about a topic they ask about so you are not repeating yourself 100 times. It has your connection, your email list (call to action), and your social connections. Some will – some want.
Never try to beg or drag someone into your business. If you do you will be dragging them to the order button every month, you will drag them to team training, you will be dragging them along when you should be getting them started and looking for the next person.
Spend time with people who are ready for you, not the ones who are still reading and researching.
How to get more Leads in your business
Ray Higdon says: "You don't want to be addicted to the outcome and you want to be inviting, not presenting. If you're investing more than three or four minutes with someone who has yet to see a presentation or attend a meeting or something like that, you're saying too much. I teach that you invite somebody, you're not addicted to the outcome – if they say yes, great; if they say no, great, and you just move forward."
You can go to events, you can read book after book, you can scroll through facebook but if you are not talking to people who connect with you and getting them to a presentation you are missing the magic of your own business.
People tell me all the time they can not sell and my reply is good!
Simply connect with you people.
Get them on your list where they will get their questions answered
Follow up with them.
Don't get attached to their answer.
Keep talking to people you will move past the no to a yes. Your blog is your business partner and it is going to serve you if you use it in your business.
If you are struggling with building a blog and would like to have some help and learn how to get it set up with simple step instructions then you need to click here now and let's get you started. You get to take a 9-day tour and if you decide you are not ready to dominate your market yet then you can go back to work the hard way – totally up to you.
Me personally I would click here. If you are ready to dive in with a blog, generate your leads, and make additional income then you can get the VIP upgrade here.
More Ways to Connect With Our Free Training Resources:
Join Our Facebook Community
Follow Us on Instagram
Get News Updates from us on Twitter
Follow Us on LinkedIn
Access the Digital Training Vault
Recommend Training University Community
Let's get started today with your business
Recent Blog Post:
If you enjoyed what you read, from this free training page, please feel free to share, distribute, and post this content so your team can benefit from it too. All that we ask in return is that you attribute all content to Angela Brooks, and post a link back to our website at AngelaBrook.com/blog Thank you!
Facebook comments:
comments