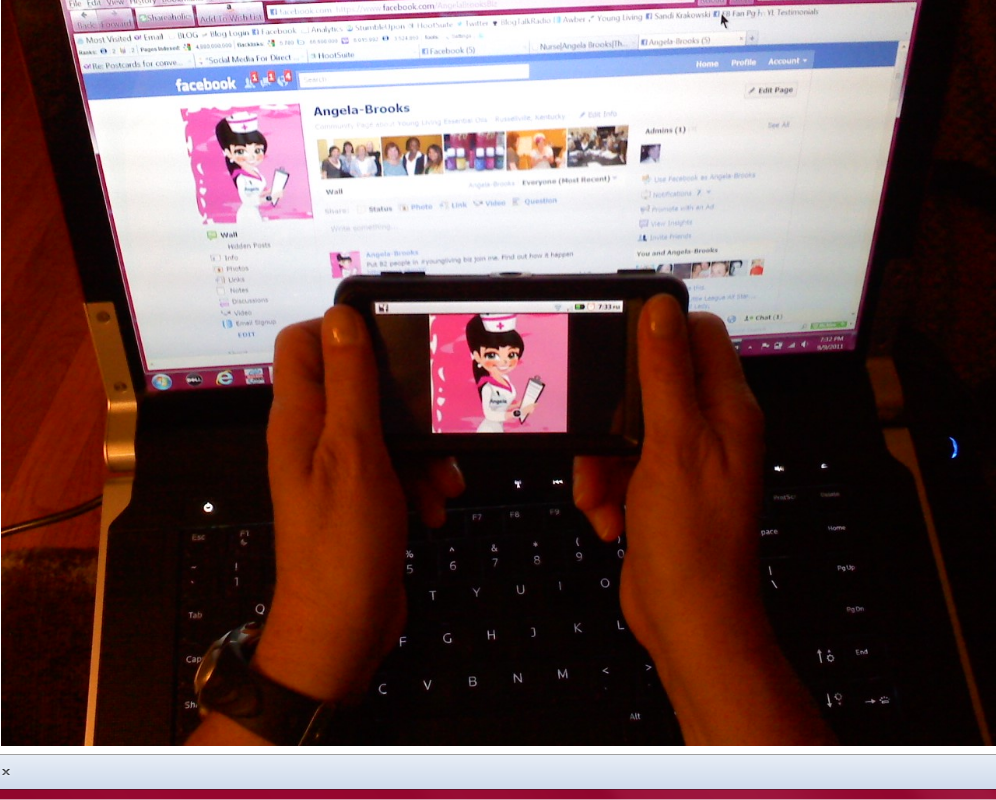 Thursday I will be leaving to attend the video academy with Chalene Johnson, a big step out of my comfort zone. I have never been to California and I am in the beginning stages of adding video to my business. When I look back a year ago, who I was as a person and where I was in my business. I would have never dreamed I would be working with a professional video team.
I worked for 22 years as a mental health nurse, and felt like that is all I was. I did not give myself credit to believe I could be even more. I have had a dream of owning a business for many years, but did have an idea of what kind of business I wanted to run. I began looking at direct marketing. One of the company's products was for energy – after all I worked 13 hour night shift and I needed extra energy most of the time. Even though I had a company I was working with – it did not mean I had all the skills that I needed to make it a real business.
After several years of struggling and doing the same as everyone else – listening to the old school way of how to work a business from home. You know what I am talking about, cold calling people who were not interested in your business and hung up on you. Handing out business cards to every person that had a pulse. Setting up booths at any event that you could register for.
I knew I had to do something else because it was not working. I began looking for a business coach who had the background that I wanted to have. I began taking classes with my coach, learned the many different platforms and processes to use online.
Since that one decision where I stepped out of my own comfort zone and lack of belief things began to happen. Lots of amazing things, like writing my own book about being a nurse, what I learned from the mentally ill, list building, using social media for business, speaking to my ideal customer. I added 92 people into my business in 7 months using my smart phone, replacing half of my nursing income, all without staying on the phone. Now fast forward today – I am stepping into the next step of business.
If you do not know Chalene she currently has the #1 and #3 Infomercials in the world! Her program Turbo Fire is currently taught worldwide in more than 58,000 gyms! She's also an amazing wife, mother, bestselling author, public speaker and energizer bunny!
Dave King will be there- A host on QVC and HSN who teaches how to connect with the camera and be yourself.  He'll be personally coaching how to be authentic in front of the camera. Chalene will be leading the charge with all the How-To's on video marketing, there will be a team of experts who teach lighting, set up.
I know you are probably saying that this is something you cannot do. I said the same thing – except I was willing to put in the long hours in learning new things to add to my business. I studied when I was tired and did not feel like learning one more thing. I listened to recordings and live calls while I was working on my breaks in a closet. I worked night shift and slept very little and had every excuse that sounded good to not apply what I learned. I am also a mother of two very active young boys who play sports and travel on a baseball team. I had the excuses to use – but the desire to move out of the place I was in was burning much deeper than an excuse. It has not been free – nor has it been easy. I have been frustrated and wanted to scream (and did sometimes) but the results are showing up.
Time happens because you have worked hard to allow more time to show up. Anything you have or do that is worth your time consist of work. We all say we would like things to be given to us, but when we work for it and see it show up the pride we feel is differant. Angela is now teaching how she has she has run her business on the go. Click here to learn more
Angela Brooks is a mental health nurse devoting over 25 years to the nursing field. Executive Director with young living , She is the author The Nurses Voice, and is a contributor to the nursing magazines "Scrubs Magazine" and "NurseTogether.com".
She is the founder of angelabrook.com, a company dedicated to helping empower nurses who works in the mental health field. Not just for nurses – but those that nurse others in life. She is the nurses voice, the voice for those unheard.

The next step is to share what you know.
Are your friends one in a million? Share this with them too!
 Share onTwitter? | Share your comment on my Facebook Page wall!




Facebook comments:
comments