In my last blog post "Why your Facebook posts aren't getting likes" I talked about Facebook being in control of your post on their platform. People were shocked they didn't manage their page. Wonder why?
It's a free platform.
The people we talk too are on a public platform that we didn't build or pay to use.
Just because you filled out your name and email and posted all your business there doesn't mean you own it. You can't even be called a renter, just a fly on the wall of a powerful big power tool.
Think about Facebook like standing around waiting to clock in or out at work. People chit chatting about life, showing pictures and talking about movies they have seen or what they are going to do for the weekend. All of those people have a place they call home, no matter what size it is.
Where is your business home?
Some people will say, I work from home, or I use Facebook, Instagram, I have home meetings, I talk to people one to one. That is all part of your business, but it's not your home.
A home is a place that you are in control of like your list (I recommended Aweber) your blog is your home for your business. If you will take notice, no matter what company, what industry, what market they have a website/blog. It is where they can talk about how they serve others, the tools, and the method they use. They talk about how they use their products and the benefits of using them. They teach how it works, plus the many ways it can be utilized.
The best part is they don't have to say it over and over because it's posted so someone needing that information can be directed to that address to learn for themselves.
Every blog needs the following tabs:
Home Page (and intro to who you serve not your company MLM products)
About Me page (no sales only your story)
Services – what you offer
Resources or Recommendation
Contact
I see blogs every day that looks like a sales center. There's no story only buy my stuff plastered all over it.
STOP for just a minute and think how do you like to shop.
If some random person ran up to you in the mall with a hat, T-shirt, and a bag, shouting their company name and they were holding 4-5 products in their hand pushing them in your face telling you how awesome they were shouting "GIVE ME YOUR VISA CARD!"
Would you buy from them?
Ugh… NO. More like hell NO!
You would cringe, run, scream GO AWAY… or you would turn to get away from them as fast as possible.
That is what your blog looks like to people online who don't know you yet. You have to show them who you are before they want what you have.
Your Story is Powerful
When you ask someone their story, they tell you "I don't have a story". Let me remind you that if you have breath in your body and you are reading this post (which you are), YOU have a story.
A blog is your stories home.
It's your up's and down's in life that we call our business. We should be learning something new and telling the story as we go. People have followed me online since I began blogging. They have watched me grow from a night shift nurse to the education and training instructor, raising my boys and looking at me retire, and my business grows online.
They know me and my story, they see my wins and losses.
When I post something for sale or present a webinar, or class that talks about my book the "MLM Blueprints secrets" tips. (That was a hint for you to click and get the book)  They trust me and my offer.
Your blog is your online real estate
If you have a place called home and you want to invite people to your home you give them your address (URL) and your phone number in case if they have trouble finding your house. They show up to read the address on the mailbox and knock on your door. When you open they door they recognize you because they have seen you in person (online meeting) or have seen your picture. (Profile picture).
You invite them in (email list). You have conversations that only you two can hear inside your house. You have an outstanding dinner and talk about lots of great tips and ideas. At the end of the night when your guest leaves, you close the door behind them. No one knows those stories but the two of you. It wasn't recorded or documented. Those ideas are now gone.
Your blog is a conversation with a group of people that can read your story over and over. You share your recommended products, ideas, stories so that even when you are sleeping someone can read your story and learn. They can click the links that you support and even share them with their friends.
Is it making sense yet?
How I generated 140 leads in 24 hours for my business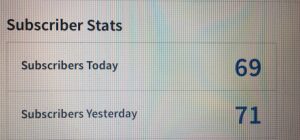 In my last blog post "Why your Facebook posts aren't getting likes."
I told a story about why people were not getting their pages seen on Facebook because of their spammy, non-socialising behavior. If you don't play nice on Facebook, they sit you down in the corner where people can see you only when they turn their heads to see you. When you are in timeout, no one can see you even if you are swinging from the monkey bars screaming look at me!
Business has rules. You have to play in the street if you want people to look at you. I am sure you just mumbled, "I don't want people to see me." Then you need a job… not a business. (a little hard love there but truth)
Business can not be run from your house on Thursday night from 8-9pm with a 5 min Facebook live and expect the money to start rolling into your bank account.
You have to build it before they come. I do not care how fantastic your product is, or who lied to you and said all you have to do is talk to 6 people and you have a business. My friend… this takes time, courage, and sweat. This is the NO-QUITTING-ZONE!
You are in until you reach the top. Don't compare yourself to how fast someone else brags about achieving a level. You do you. If someone tells you all they did was have ten meetings a week (who the hell wants to do that?) for 12 months and boom they hit the top. Stop and compare you to your life – is that something you can or would want to do? (Ugh.. not me)
No – you don't have to build a blog – I recommend it – but you don't have to be successful in your business. However, I would suggest someone new start here for a 10-day trial because it is easier than going at it on your own and it shows you how with a superior community support and videos. You can also be a VIP 10-day trial to blog and increase revenue.
No –. you don't have to build a list of your clients and customers to opt-in too – but I highly recommend it – I more than highly
recommend collecting names and emails so you can talk to them personally and tell them about your blog post. That is what happened yesterday when over 8000 people read my blog post in 12 hours. It was shared, tweeted, posted in groups, emailed to friends and shared on facebook over 700 times!
When you build a blog and provide value, people will come to you. They will reach out for more. They will see you have what they already need and ask "How can I buy that."
Would you like to have 140 people hitting your email list a day asking for more? I had hundreds of people sending me messages on Facebook. My fingers are sore – not even joking from replying to them all.
The power of a blog and your email list is all in your control. Of course, you have new stuff to learn – so did I. It has paid off debt, retired me from my job and sending my son to college. Learning gets easier when the new wears off. See you in the support group –
Are we even Friends yet?
If we aren't friends on Facebook, don't you think we should be?
Yep – I do.
If we aren't connected on Facebook – we really need to be don't you think? Click here and Follow me as a friend and send me a message and let me know you read the blog post! I don't add everyone on facebook – only the friendly people who actually talk to me.  Just a good rule of thumb because I won't let someone in my house if they wouldn't talk to me at the front door.
I know you liked this post because you are still reading, you will get tons of value inside the weekly email where I share more tips for social media to generate leads for your business, simple marketing steps, use Facebook to generate leads for any business. You don't want to miss out on the updates it is darn good content. Grab it
SHARE – COMMENT – LIKE  this post!
More Ways to Connect With Our Free Training Resources:
Join Our Facebook Community
Follow Us on Instagram
Get News Updates from us on Twitter
Follow Us on LinkedIn
Access the Digital Training Vault
Recommend Training University Community
My recommended Essential Oils
If you enjoyed what you read, from this free training page, please feel free to share, distribute, and post this content so your team can benefit from it too. All that we ask in return is that you attribute all content to Angela Brooks, and post a link back to our website at AngelaBrook.com/blog Thank you!
Facebook comments:
comments