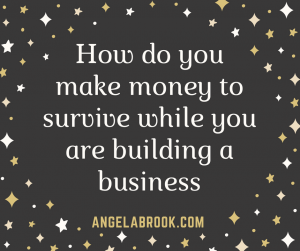 Back in 2010 when I discovered I didn't have to chase and beg people to join my business things started looking a lot different for me and I was able to relax and be me not some fake person chasing people down to get them to join me.
People ask me almost daily what I do to generate leads and I tell them.
Most of them don't change a thing, or they think I have some magic wand I am using to produce some kind of secret recipe. It's so interesting to me the more open I am and the more I give to tell what I do and the tools I use the fewer people will use it.  They continue doing what makes them feel yuk and aren't producing any results for them.
How fast can someone ramp up their skill set in Digital Marketing to start seeing profitable, sustainable revenue come in consistently
Absolutely NO tech skills (expect 6-12 months at a minimum).
Knows how to do social media, maybe set up a blog, and can play around in Canva (expect 4-6 months).
Has designed WordPress websites OR has done landing pages or webinars or copywriting already (expect 3-4 months).
Fluent in tech and can pick up new systems quickly and easily (expect immediate to 4 months).
If you put your head down and study and get things in place you will see results. It will not happen over night for anyone. I had a coaching client quit after 6 weeks because they expected to have results like mine 6 weeks but yet they hadn't done any of the work we talked about on our calls. They actually felt that the coaching fee I was paid was too high for the results she was getting.
I have spent 100K on my education and traveled thousands of miles to get in front of my coaches and network with people to learn from. The people at these events were not your average business marketers they were hungry to learn. Keep this in mind.
They were willing to do the work, put in the time, remain "coachable" with their mindset, and make the investment in their own education through the tools, programs, and expertise.
How Fast Can You Get Skills
Any time I talk to a person who are partners with me in business I tell them to give themselves 12 months of true application to get a business growing. They all shake their head yes and agree and in 8 weeks most of them are already doubting if they can make it work.
If you are a good student and buckling down to learn in 6 months you will see things totally different.
Skills + Strategy = Money
It just does. It's not enough to have just one or the other. My Marketing System is designed to teach you BOTH because hello…Money!
Email Marketing (Aweber)
It's still one of the most valuable assets an online business owner has. Email marketing is still incredibly important in 2017. I have more people than I can count tell me they don't want to use a list because they don't see the need. They still chase people down and have names on post it notes.
Social Media:
Folks think they can post three times a day and go about their business without building a connection on social media. There is more to the post than just throwing them out there.
Content Marketing:
You can never go wrong with a blog. Getting content out on the internet so you can be found by SEO is a powerful tool for marketing you and your business. Google's Algorithm is incredibly smart. Instead, you need to focus on content rich content on a targeted topic that you readers are looking for. The important thing for you to do is get a blog up and started until you can get a specialized designer to help you. [Blog option from scratch]
Clickfunnels for All Kinds of Funnels
Sales funnels are more important than websites. In a crowded market, it's absolutely imperative you have a way to carve a path for your ideal customer or client.
Zoom: Webinars are hot! Learning how to create compelling and engaging content builds relationships and the trust factor quicker.
You have to decide if you want to learn marketing and if you want to hang out with my facebook group to learn how I do marketing. That part is up to you. I had one person tell me she joined someone else because she didn't want me to earn a commission and now she is still struggling because she doesn't have a community connection to ask the simple questions.
How do they build?
If you want to learn how the big dogs do it and learn how you make money to survive while you are building a business along with cash flow in front of your opportunity that will give you a budget to run your business while you build your list that will keep you in cash flow and residuals long term.
This is your magic formula you have been searching for.
It gives you all the details on how to blog, how to use social media and shows you the money. Go right now and get a 10-day test drive to this system here. Once you are in send me a message and let me know so I can get you in my private group.
You still have work to do but once you learn this you will be well on your way to generating leads with easy and you will not be chasing people down to sniff your products or taste your juice. I'm not going to tell you what to do, I am not going to blow smoke and tell you how simple it is. I am going to tell you this is the magic sauce you have been missing. You can fill your cup or you can keep shaking it for change.
By the way…. are we connected on Facebook?
It is just plain crazy if you have read this far on my blog post and we are not friends. I mean seriously – this far down. We need to be connected. Add me as a friend – send me a message and tell me you are jumping on board the money train.
Did you get VALUE  today? SHARE – COMMENT – LIKE  this post!
More Ways to Connect & Resources:
Join Our Facebook Community
Follow Us on Instagram
Get Updates on Twitter
Follow on LinkedIn
Access my online file storage Digital Training Vault 
Recommend Business Training Mastery Community
If you enjoyed what you read, from this free training page, please feel free to share, distribute, and post this content so your team can benefit from it too. All that we ask in return is that you attribute all content to Angela Brooks, and post a link back to our website at AngelaBrook.com/blog Thank you!
If you like today's post you may also like these:
Effective Ways to Motivate Your Team
What Yoga Can Teach You About Entrepreneurship
How to choose high quality essential oils
Facebook comments:
comments