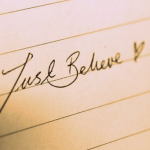 Being an entrepreneur, or even thinking about becoming an entrepreneur, is a really scary, brave, crazy, wild and often lonely experience. To make your business work you have to Focus and Believe in what your doing and the direction that your going in.
In the beginning people thought I had a little business that would go away after I played with it for a little while. I knew better.
In order to succeed, we must first believe that we can. ~Nikos Kazantzakis

The first person who has to believe in what your doing and where you are going is YOU.

I truly believe that everything that we do and everyone that we meet is put in our path for a purpose. There are no accidents; we're all teachers – if we're willing to pay attention to the lessons we learn, trust our positive instincts and not be afraid to take risks or wait for some miracle to come knocking at our door.

~Marla Gibbs
In order to move forward in your business you need someone to support you – so you are not alone. You will have questions, doubts and days that you think you know nothing about business.
In the Social Media Profits you will get the support you need in the private group plus all the tools I used to build my business. You may know most of the tools I use and need to be around like minded people.
Either way – place yourself around people that are reaching for the dreams similar to yours.
Facebook comments:
comments