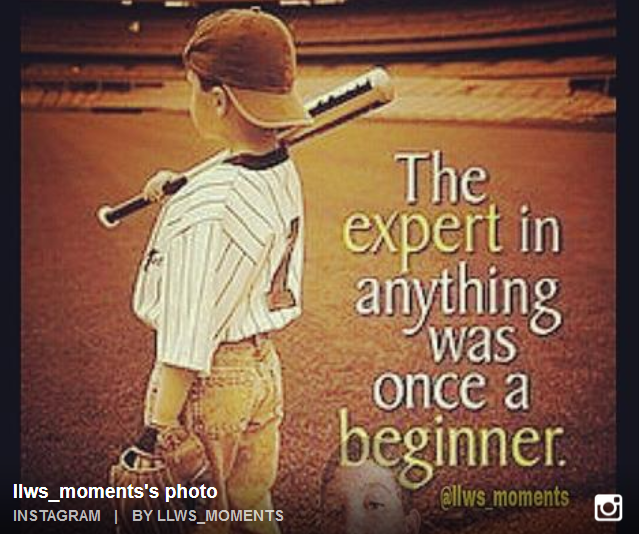 When I saw this picture on Instagram @llws_moments it took my breath and I immediately got teary eyed. This is not a picture of my son – but it was not so long ago. He loves baseball today as much as the little guy in this picture does. In 2009 he had the amazing experience of going to to the little league world series with his team mates and play on that magical field of dreams.
The Expert in anything was once a beginner.
As a mother to see them walk out on that field in the uniform representing the whole Great Lakes Region was absolutely breath taking! My son was on a baseball field no long playing other counties but around other country's teams. The moment they came out waving the flag and they called their name the crowd went WILD!
We are a small town and they were a small team of 10, with no extras. They had the heart the size of mountains and the grit to move that mountain. From the time they were young as a team they always talked about "when" we go to the LLWS. It was never "If".
I made vacation plans that year for "when" we went to the LLWS. People laughed, and I said I am claiming that opportunity. You see, you can only go to this event when you are 12, literally a once in a lifetime. This was that year.
With each game they won people were in awe of the talent of that little team. When they walked on the field they were not playing baseball they were playing their dream. Give or take a game they had to play and win 15 games to get the chance to go to the final level. The last game played on ESPN – my son was playing on ESPN !!
It was a good team – they had won against bigger guys than these boys before. Except the vision in the eye of these tigers came from a deeper place than they expected. Focus – Drive – the dream. The last crack of the bat with our guys in the field sent the ball flying and finished the final out at 1st basemans hand. The whole crowd went out of control! Screaming – crying – shouting – hugging. It was the most amazing feeling in the whole world to see these young men living the dream.
You don't have to be big to win. You have to see the dream and focus your efforts that move you in that direction. Out of that dream team only four of those boys are going on to do other things. The other six are now playing in college ball and still love the game.
You don't need to know it all – you have to be willing to dream. Do you ?
Join an amazing journey that has allowed me to follow my son in college and take my business with me. All I need is an internet connection and my laptop.
Facebook comments:
comments