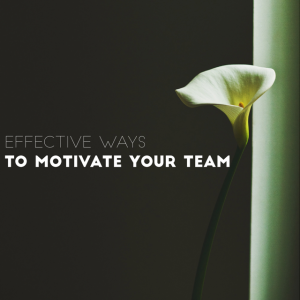 Finding the most effective ways to motivate your team is to be the sample they follow. When you first joined network marketing someone probably told you to make a list and talk to people you know first as your warm market or they said to set a goal.
Most people are not used to achieving planned goals that's not going to be very motivating to them, or someone who is a 'hands-on" type person. Sitting down to write a goal on paper that they will never read again will not be very helpful. Find what motivates that person.
Give Challenging Tasks
People can't grow if they are doing the same things they have always done. Give them a task to challenge them. Of course, make sure the task is reachable at in the time frame you set. People are afraid of new things giving them a push with a deadline helps them push themselves.
Encourage Creativity
I can't say it enough, Encourage people to be unique in building their business and bring who they are to the front. Most people feel they have to turn into a whole new person and then feel stuck when they can't keep up. It is because that is not who they are. It is so much easier to talk to you, be you and bring your personality to your business. That is what people like about your business – you.
Give as Much Support as You Can
When most people join a network marketing team they are focused on making the money, the rank they can reach and the things they can win or generate from their efforts. After a while, that becomes an empty effort for the long run. No one wants to get to the top and be alone with no one that understands the climb.
I am not a person who believes someone is a better person at a "rank" or higher title. Some people need a title to make them feel important. It is mile markers of how hard you have worked but it isn't who you are.
Team Growth
When you join efforts with the people on your team, big things start to happen. Many teams gather in small circles and can only grow as big as the circle they have formed. Adding outside coaching and education brings many minds together to work for the good of everyone on a team. Ray Higdon talked about "How to get your teammates hungry for success", in his blog post. I agree with him – we can not want it more than the person we are giving the opportunity. They have to be hungrey on their own.
People don't have to recreate everything all by themselves. They just need to be willing to watch other people and be coached. A key to a good leader is communication, education, and instilling expectations that build confidence to teach to teach.
The key to greatness is seeing you bigger than you think is possible and stretching to achieve it.
Zig Ziglar says, "People often say that motivation doesn't last. Well, neither does bathing – that's why we recommend it daily."
There are  qualities that I want in a leader of who I will spend my time with:
Confidence
Capable
Committed
Coachable
Once you know who you want to work with and who you want to spend your time with it becomes easier to build a business with a team that has the same excitement that you do. Trying to build a business around someone who doesn't have the motivation to build is like pulling a train by yourself. Have fun in your business, you are building long term connections make it be with people you want to be surrounded with.
Be the example… Teach to Teach by being a true leader who goes first.
---
Have You Checked out the webinar "Top Five ways to stand out Market you and YOUR business" Learn to generate your own leads and get real checks? (Unless Of Course, You Are Already Making Too Much Money!)  The #1 thing you absolutely have to do is to get more sign ups and grow a bigger team Click Here For Instant Access to the webinar
---
We all have a message to share with the world – let's get started! If you got value out of this post use the social buttons to share it to the world for them to see. Leave me a comment. I enjoy reading your insight to the blog post.
Angela Brooks is a retired nurse after working in mental health for 25 1/2 years. She built her 6-figure business part-time on her lunch break. Now she helps entrepreneurs use social media and a blog to build a wildly successful sexy business online.
Facebook comments:
comments