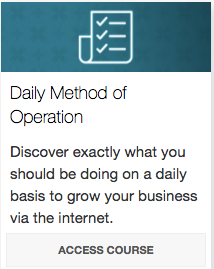 If you don't have a simple "Daily Method Of Operation", it will be very difficult to build a large and successful organization. A DMO usually consists of one to three things that you commit to doing every day. Most of your business is the same process, it is rinsed and repeats but if you are not sure what you are rinsing you miss the point of your day.
I have been asked often what does my day look like. It isn't complicated but it's something that keeps me on board with my business and engaged. I wanted to give you my routine most mornings, of course, there will be the days that something will come up and things get shifted.
Start the day
The alarm goes off at 5:50 AM and normally I wake up before it rings because I hate the sound of an alarm first thing in the morning. All animals are shuffled outside to go potty, yes it looks like a parade. I get to stand on the front porch and watch the sunrise between the trees in my robe.
6 AM – coffee is brewing
6:10 AM – coffee with almond milk with a drizzle of honey
6:15 AM – sit on the front porch in the rocking chair and sip coffee, normally entertained by 3 dogs and a cat.
6:30 AM – get my son up and ready for school. Fix his breakfast.
7:30 AM – on the road to school
8:00 AM – I and my little dog get a 2-mile walk in usually listening to a podcast.
10:00 AM – check email/Facebook/Social updates – respond to messages/Follow up with leads and prospects
10:05 AM – send birthday messages, post one update in my business group
11:00AM – break/lunch
1:00 PM – connect with 20 new people a day using the follow method. Review the friend request for connection, and follow up with the day before connections.
9:00 PM – Write any emails or blog post – yes I am a late night writer. I have tried to write during the day and it just doesn't work well for me.
Goals for the Day
Your goal for the day should be building connections with people (that is how business grows) and follow up. Learning how to communicate is 99% of working in business and building connections to people outside your circle.
If this is something you hate doing network marketing will be an uphill battle for you. Your business is more than just the product you have for sale – it is the relations you build and the people you serve.
Look to generate three new leads each day through a variety of methods – talking about your product to people you encounter in your daily life, social media, and networking.  If someone shows interest, they are a contact.  Even if the person is not interested, you can still count them as a contact.
Following-up with people who have expressed interest and have either looked at the information or have not.  Follow-up is essential in any business because people are very unlikely to say 'yes' on the first approach. Most people get so discouraged when people say no when approached. The good news is most people say no when approached the first time.
Who is my focus
The focus is customer nurturing reaching out to the past and existing, customers, or team members, or even upline, or cross-line people, to let them know you appreciate them.  This can be done via message, text, call, a hand written note.
Keeping a journal or a notebook is the only way you can track and see what you are doing in your business. We all get busy and think we are doing money making producing activities but it ends up looking more like surfing on facebook instead of generating and connecting to leads.
You have the same job description (DMO = daily method of operation) no matter what rank you are in. The only difference is the pay increase from the job you have done. It doesn't make you a different person it shows results from the work you did for the 80% ~Taylor Thompson
How can I help
If you are not sure how to generate leads for your business or make contacts for business on Facebook. Watch this video and let's connect. I have a facebook group that I work with each week to help people just like you build their business space online.
Thank you for reading along with me on this journey of growing, changing and shifting. If we aren't connected on Facebook – we really need to be, don't you think? Follow me as a friend then send me a message and let me know you read the blog post! I don't add everyone on Facebook – only the friendly people who actually give me a few minutes of their time.
SHARE – COMMENT – LIKE  this post!
More Ways to Connect With Angela
Follow me on Facebook
Kool pictures on Instagram
Opinions and Such on Twitter
Resume' on LinkedIn
Resources I use: Resource Link
Highly Recommended Business Marketing & Blogging training 
If you enjoyed what you read, from this free training page, please feel free to share, distribute, and post this content so your team can benefit from it too. All that we ask in return is that you attribute all content to Angela Brooks, and post a link back to our website at AngelaBrook.com/blog Thank you!
Facebook comments:
comments