To be a business person you need these business factors to remain in the game. You must be sticky and willing to stay in the game even when it is feeling stressful and hard. A true entrepreneurial spirit doesn't look at what has failed or not working but what they learned from doing it that way. You must have systems in place to help you work your business or you are working way too hard.
You can roll your eyes, lay down and kick and scream if you would like – whatever makes you feel better. The fact is this. Every single 7 figure person I have ever met have these three things in place.
The money is in your LIST.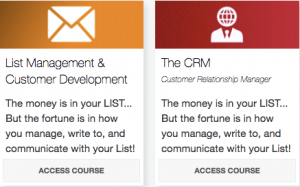 Your list is your connection to your customers and clients. Amazon builds it, Wal Mart builds it and every single network marketing company generates it.
A list gives you immediate access to your customers with a single email.
Building an email list is STILL one of the smartest things you can do to start – and grow – your business.
Here are the business factors according to social triggers:
* 81% of US online shoppers are more likely to make additional purchases, either online or in a store, as a result of emails based on previous shopping behaviors and preferences. – Harris Interactive
* 72% of consumers say that email is their favored conduit of communication with companies they do business with. 61% say they like to receive promotional emails weekly and 28% want them even more frequently. – MarketingSherpa
* According to The Relevancy Group's findings, US marketing executive believe that email alone drives the same amount of revenue as their social media, website and display ad efforts combined.
To build a list you need a piece of software that likes network marketing and will push your emails out. I have always used Aweber because they are cheap to get started, they are easy to set up and the support is awesome.
To can get a crash course with Aweber on how to build a list or a detailed class in the University.
Blogging sharpens your business focus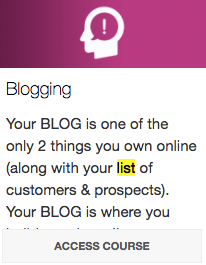 Building a blog for traffic to your offer is not the fastest method of marketing but it is one of the most powerful pieces of machinery you can have in place. It never sleeps, it tells your story for you over and over, plus it likes google when set up correctly.
Google is always looking for high-value content to share with its researchers. When you put valuable content out on the marketplace it will share your blog to the world that you can not reach in person.
Your blog is your online storefront waving at people who are walking by you in person. The number one thing I have noticed about all top marketers is they have online real estate. A blog is promoting their brand even while they are using another marketing strategy at the same time.
Don't know how to get started blogging? Simple.
Inside the university, there is more than one course that will show you how to get started and what you need to be working on.
Storytelling for Profits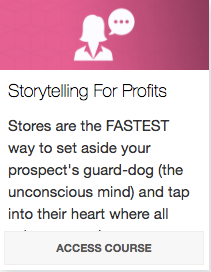 Your story is your brand.
Business owners are looking for a fancy way to share their business. Their voice changes, their eyes get all crazy looking, they stutter, they forget who they are or why they even wanted to be in business.
Your story. You as a person. Your message is your brand that people will relate too. Before you build a list or write your first blog post. You are the more important part of your business. The products you connected with have a story as to how you used them.
Learning how to simply tell your story to get people to lean in and listen to your message is the most powerful skill you can learn.
Yes, learn.
Not everyone tells good stories.
Not everyone thinks that their story is worth sharing
Not everyone understands the power of who they are as a business tool
Inside the university, you can learn how to tell stories to help your business grow by being you.
3 things your business must have to succeed
Blogging generates traffic to your message by telling your story that will help build your list when they opt-in to learn more about you. All that is hard to put together in the beginning because you are now asking "What does that have to do with my products I am selling."
Join the University
The failure rate for new businesses is very high: 50 percent fail within five years and 70 percent fail within ten years. I strongly believe this is because people launch ideas, not opportunities.
My Lead System Pro or MLSP is an affiliate program that teaches network marketers attraction marketing. Attraction marketing is the concept of leading with value to attract your perfect prospects to you.
MLSP is like anything you do. If you do not use the content that teaches you how to make it work you will get frustrated. If you are already beating your head against the wall and getting no results you have nothing to lose. There is a 14-day trial under $10 where you can go in and watch the three courses mentioned in this post and leave at the end of the 14 days or you can stay and go through 100 days challenge and learn a new course each week to implement into your business. That is totally up to you.
I see people in business every day struggling hanging on to a life raft with a hole in the side. Be honest with yourself. You need skills. You need knowledge. You don't have to pay a fortune for education to get started but you need help and guidance to get things moving.
Join the University to learn the new skills you need for a successful business.
Join the Master Program to learn new skills, generate leads for your business and make money today.
SHARE this post – COMMENT let me hear from you – TAG your team!
More Ways to Connect With Angela
Follow me on Facebook
Kool pictures on Instagram
Opinions and Such on Twitter
Resume' on LinkedIn
Resources I use: Resource Link
Highly Recommended Business Marketing & Blogging training 
If you enjoyed what you read, from this free training page, please feel free to share, distribute, and post this content so your team can benefit from it too. All that we ask in return is that you attribute all content to Angela Brooks, and post a link back to our website at AngelaBrook.com/blog Thank you!
Facebook comments:
comments