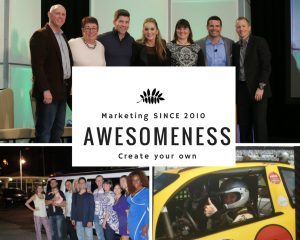 Self-confidence is one of the most sought after emotions in business that has to be learned and no one can give you that skill. Self Confidence is an inside job that screams awesomeness.
Most of us – me included – are shocked at the things that we can accomplish with small steps and focus. When we take the time to recognize and celebrate the victories we have won in our business or life it helps generate self-confidence. It is rewarding to show how smart you are and you have more business successes coming your way.
Others may assist you on your journey but believing in yourself and keeping your head up is totally up to you and will boost your confidence that screams awesomeness.
Take Risk
One of the scariest things I have done in my business is to hire a business coach to push me out of my comfort zone. Most people see those who have reached success as confident and not afraid to take the next step. What they don't see is the next step no matter what size jump it is – it is still a new step.
I took a few minutes to step back and look at the last 12 months at all that I have tested, put in place, had to re-do, spoke on Ray Higdon stage not once but twice, radio interviews, nursing magazine interviews, podcast, travel, meeting new business connections, wrote book number two, and increased my income. 12 months come and go really quick and it is hard to believe all of that was done in that span of time.
Taking a risk also means putting things into action what you have learned, not just learning. Taking risk doesn't mean you will always do it right, but be willing to keep going and learn from what didn't work.
Many times we'll blame the lack of knowledge, funds, and support when in fact we're blocking our road to success. Do not listen to negativity; have faith. You may be shocked at what you're able to achieve.
Dump the doubt
Each successful person I have met in business has had some form of doubt. The difference in you and someone who is successful is they pushed through the nervous jitters, the fear, the doubt, and didn't over think the challenge.
Anything new is a challenge and you have to learn new steps to make them work or create your own steps.
Smile
Smiling makes you feel confident and appear composed to other people. It helps release stress and makes you feel happy. Hold your shoulders back, smile and you will feel a boost in your confidence that screams awesomeness.
Skills create confidence
If the people you follow have made 6-figures online they have found the 7-Secrets to getting more leads, clients and cash flow. There are secrets to making money from every person you talk too. If you have recruited 10 people or less this training will help you. (There is a 10-day trial today too)
TOP 3 BASIC FUNDAMENTALS OF MARKETING A LAPTOP LIFESTYLE 
If you got value out of this post use the social buttons to share it to the world for them to see. Leave me a comment. I enjoy reading your insight to the blog post.
Angela Brooks is a retired nurse after working in mental health for 25 1/2 years. She built her 6-figure business part-time on her lunch break. Now she helps entrepreneurs use social media and a blog to build a wildly successful sexy business online.
Facebook comments:
comments