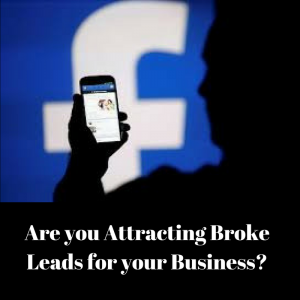 The only thing worse than not getting leads from your business efforts is actually attracting BROKE prospects or CRAZY people who want to join your team but have no money.
You know the type…
You pour your heart out trying to help them on a Messenger or a call and they tell you how awesome you are and that it is destiny that you guys work together and then…
You tell them what it takes to get their business started and they say…
"I need to think about it!"
Guess what. They are not your tribe!
Does that make you feel better?
It did me.
Since learning the skills people needed they are buying new homes, paying off credit cards, upgrading cars, paying off school debt for themselves after years and for their kids. One family who had 6 kids in a 1000 square foot home has now upgraded to a house where everyone has their own room for the first time in their life.
Network Marketing is not a business you can do alone. The name NETWORK tells you why. It is a people business.
Learning how to find the type of people you want to work with is more important than you think it is. Having someone who sucks the life out of you on your team is not someone you would want to spend a lot of time with. Find your tribe.
You stopped on my website and came to the Wednesday Training or picked up a free product training looking for more.
More leads, more business guidance, something brought you here and you stopped to reach out.
You are $1 a day away from learning how to find your tribe, not the freeloaders who want business using the easy button.
You can look around for 10 days to see what big guys and myself use for the business building.
I look forward to helping you achieve success with your business.
Successfully,
Angela Brooks
P.S. – You have nothing to lose taking a look at the training – $1 a day for 10 and if you are not happy you can get a refund. Win-Win!  PLUS a Bonus… I will add you to my private Facebook group where I hang out several times a day.
What is your plan?
Make sure you are on the email list to get more updates like The Secret Recipes is PROVEN to help you Get More Customers, Recruit More Reps, and Make More Money in YOUR Opportunity Build your business part-time on your lunch break with these simple skills  Enter your name and email
If we aren't connected on Facebook – Follow me  then send me a message and let me know you read the blog post! I enjoy meeting people who have read the blog post. Stop by and say hello.
SHARE – COMMENT – LIKE  this post!
More Ways to Connect With Angela
Follow me on Facebook
Kool pictures on Instagram
Opinions and Such on Twitter
Resume' on LinkedIn
Highly Recommended Business Branding, Marketing & Blogging system
If you enjoyed what you read, from this free training page, please feel free to share, distribute, and post this content so your team can benefit from it too. All that we ask in return is that you attribute all content to Angela Brooks, and post a link back to our website at AngelaBrook.com/blog Thank you!
Facebook comments:
comments