Angels Among us – Last Weeks post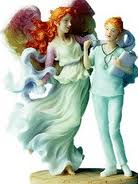 Last week I shared a story of angels that has walked with me through my years in mental health nursing. That was not all of them – but the ones that caught my attention the most. The response I received from that one post was heart warming. I wanted to post some of the comments here just to let you see how many people responded and just how glad they are to know that angels really do walk with us in out daily events.
Most of us are so busy that we do not take the time to hear them speaking to us and we miss the message that was sent. This Post went to 22 countries – and 28 Stumbled-upon, and over 400 readers.

Here are a few – and there were many more on facebook and twitter. I hope you will share your story below in the comments section.
If you missed the story go now and read it for yourself.
"Post: Angels Among us"
I saw dreams about my angels, two young men.. I believe my boys are my angels…Beautiful proof of divine intervention. story.Thank you for sharing. Especially about the men standing and you were alone.. That was so beautiful. You are such awesome writer Angela! ~Tatyana
I finally found time to read this and it was so touching. I don't know if I have angels to watch over me but I know that being a nurse is a calling from God. A lot of us older nurses know what we mean be a calling to be a nurse. I wish some of the new grads could understand that and realize that we are not here for the money that we make but the compassion, caring and loving that we feel for our patients. I miss the old ways of nursing but you have to learn the new things to be able to move on. ~Mona
I was overwhelmed with tears reading your stories. I signed up to subscribe to the website. Honestly, you should write a book. I was so taken in. I love the nurses' support aspect as well. I have only been in mental health nursing for 3 years as opposed to your TWENTY ONE YEARS (WOW) and I love my patients, but sometimes I catch myself saying things that a "burnt-out" nurse would say, not even characteristic of myself…like who just spoke out of my mouth.
~ April
I will never look at my job the same again … after all. Who knows who I will meet there. ~Ann
Angela, Your compelling story captivated me to the very end. As the story unfolded I felt every emotion I think there is to feel. From sheer terror to the raw, loving tears that fell when you graciously accepted the compliment. I look forward with anticipation to your next article. You are the blessing as I continue to learn from every stroke of your pen. You go girl! ~Carla


I just wanted to thank you. I read your story about your encounter with Angels. It brought me peace this morning and to tears. I know my Angels walk beside me everyday. I like to say a prayer and ask my angels to protect me from anything bad by wrapping their wings around me and keeping all the negativity out. It makes me smile when I do that. You are such a bright light and God has called you to do AMAZING things. You are so blessed and now I have just been blessed by your friendship on FB. ~Michelle
When ask to be spoken too – there are no guide lines as to how the message will arrive. It gives you great comfort knowing you don't have to walk alone. Sometimes we go to bless someone else…and walk away with the blessing. ~Beth
Angela, this was an extremely touching article. Your relationship with God is evident not only through the article, but your life as well. I had tears in my eyes reading this. What a blessing you are to those patients; and they are so fortunate to have you as their nurse. You can go to work knowing that you have the protection of God's Angels surrounding you. There is no better protection than that. Great article. ~Brenda
Listen to Alabama – They agree there are Angels Among us
Angela is a nurse that has worked for 21 years in the same state funded psychiatric hospital assisting some clients that others might refuse to treat. She works on the psychiatric ward.
She also runs her own company on the side and supports other nurses in how to bring passion into their role at work. Out of the box remedies for speaking to people
and more.


————————————————–
What Did You Think?
Let us know your thoughts on today's issue?
Remember – sharing is caring!
————————————————-
Are we connected on Twitter? | Come write on my Facebook Page wall!
Facebook comments:
comments