Our Guest Blogger Professional Candise RN has a story to share about a day she will remember – a funny one if you think about it from the nurses point of view.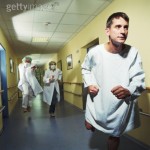 The majority of this day went well. Seven to three was a breeze; I had an orientee with me, which I don't mind, but it does slow you down when you have to explain/ teach someone else about the how/when/ why of EVERYTHING! And all the rules and regulations and paperwork and the "gray" area at this place really makes teaching another sticky. At three in the afternoon our oncoming coordinator decided we have to close a unit ASAP!
As the professional nurse working on the floor I know that this will inevitably cause some kind of riff with the patients, but hey, what do we nurses know about patient care? I close the unit as I was instructed to do. Four new women are suddenly tossed into the mix; three of the four I want to be as far away from the exits as possible, and the fourth was moved off of the unit we are moving to earlier in the day by her request because she thought another patient "had demonically possessed her soul."
At 3:45PM a patient that I never would have thought of as a "runner" went dashing out the door nearly knocking the doctor coming in the door to the floor, and ran downstairs to the carpet (administrative hallway aka bosses)! The patient ran down the hallway straight to the hospital director's office. Why couldn't my patient dash to the canteen (vending machines) like everyone else's patients do? I thought, "This is just freaking fantastic!" Luckily, there were five of us staff members in hot pursuit! Awww! I love my job; it has great pay, an exercise program, and never a dull moment!
When the staff return her back to the unit and I begin the mountain of paperwork this event has created, call the coordinator to inform her of the incident. As I pant and try to catch my breath, she starts rambling on about professionalism, blah, blah, blah. Once she has finished her spill I ask her for suggestions on the most professional way to make someone stop running away from you. Needless to say she could offer no suggestions. What else could go wrong? I would ask such a question, wouldn't I? Next on the line up is my 80lb female patient who decides to chase another nurse out of her room with fists raised. (I had asked the "always so helpful" male nurse to just give her some time, but guess he thought the juice he was offering was far superior to the quiet personal time I had offered.)
Can't say I blame her for her actions; I might have done the same. Soooo… she then started banging her fists, head, whatever she could, on the beautiful cinderblock walls of her room. She refused to contract for safety, you know, the usual. Therefore I had more calls, more paperwork, a couple stern stares towards the helpful male nurse that has now disappeared back to the unit he was previously assigned to, how convenient; PRNs (as needed meds in the form of injections) for this patient coming right up, but this kid turns into a USA prize gymnast when we enter her room with the injections. She leaped from the corner of her room and lands feet first, standing straight up on the center of her bed.
Really? Really? Sometimes you just have to laugh!

Candise Belmont RN is an works at a state funded mental hospital for the last two years. She became a Registered Nurse in 2008. Prior to that she worked as a CNA in hospitals and long term care facilities for 6 years. She received her BSN from Austin Peay State University in Clarksville, TN. Candise has a passion for nursing, mental health illnesses, and writing. She also teaches at Austin Peay Nursing Program in Tennessee.
Facebook comments:
comments