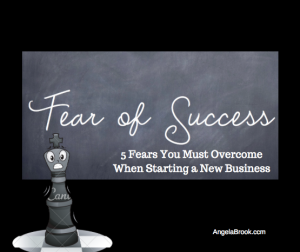 Fear is the most crumbling mountain to overcome in a new business owner. I have seen people totally freeze when it comes to making a purchase that could lead them to an income. However, people who are purchasing the same package for the products discount have no problem spending the same amount of money.
What causes people to freeze?
What makes them all of a sudden get scared of what could be?
If you are like me as I was hiring a rockstar business coach I had a panic attack right at the moment of paying. I knew 100% that was who I wanted to hire, I knew what I would get working with him, and I knew I would be totally different at the end of the 12 months. The only thing in between me and him was the payment, which was not a problem. I could make the payment and would do the work.
My greatest was on the other side of that payment. I scared myself, knowing I am not a quitter and I will do what it takes and there it sat in front of me waiting for me to get started. I took a deep breath and said yes… and have never looked back.
The Fear of Possibility
The cost of the investment is rarely the problem. The fear of the possibility that you could actually get what you wanted in your life is scarier than people give it credit. That means you would have to change who you are and become more of who you are designed to be, change friends, go to places that are new to you and meet new people.
When most people, not all, that tell me they don't have the money I know that is not the case. I have followed people on Facebook and watched them go on vacation and then complain they have to work overtime to pay for it. I have watched people put in swimming pools and then talk about how many months they have to pay for the luxury of having it. The debt with a payment didn't scare them, but a business that makes those things a tax deduction or something they could pay in cash scares them.
Change is what we want until the door opens and the opportunity says come in. I have had people tell me they have prayed for an opportunity to make more money, to buy a new car, to pay off school loans, to not live paycheck to paycheck but hesitate when someone tells them this is what you need to do to reach those goals.
People are used to the struggle and living a free lifestyle where money can be made at any level you want. They freeze.
Fear of getting Started
You don't have to be an expert to get started in a business. You have to be coachable, open to learning new things and staying consistent. There is no shame in not knowing something and learning. You can always find the answers if you are looking for them.
As a sponsor, I have a training vault lined up for people to get in and it is set up … one, two, three. You will be amazed how many people will not take the time to learn the steps through getting started. I get them added to a Facebook support group so they have a community to hang out with people who are learning about the same products they are.
Learning something new is not always as hard as our mind makes it out to be, be willing to take the steps and let the path unfold.
Here is a conversation that I wrote on Facebook that had some great replies
Conversation that make you stop and think … am I weird?

Normal = 100k 💰 in college debt for a degree you don't enjoy…

Posted by Angela Brooks on Friday, June 2, 2017
Fear of Believing in yourself
Sounds easy, doesn't it?
The hardest thing people have to do is believe in their own ability to learn new things. To be able to actually help and influence other people. Your woe's me, your hard times, your low of lows, and your bad times are stepping stones for someone else.
I never thought being burnt out nurse in my job would help so many people. Or being a nurse outside of nursing would encourage someone else to know there are more options than what we see in front of us.
People will doubt you.
They will not always support you.
They will even say you are a little crazy for thinking you can.
Honestly… you are a little crazy to listen to someone else's opinion who has not used their skills. Just because what you are doing is something you have always done doesn't mean you don't have more in you.
Things  you Fear
When you take out your debit card or credit card and you get your starter kit. No one has turned on a neon light over your head screaming you are in business. You are not about to get trampled by the Black Friday crowd to buy all your products. In fact, it will be the opposite.
It will be quiet in the beginning and you will have to talk to more people who say no than you get yes. Which can be hard to swallow. Don't take that personally – keep reaching out to people and asking for referrals. Most people get a no and slink back into a shell. Instead, say something like "I know this is not for you but do you have one person you could refer to me that maybe open to ______? I would really appreciate the referral"
I have never had anyone tell me NO – they won't give me a referral. Actually, more times than not they will keep it in the back of their mind and when they hear someone mention that product or a need you serve they immediately think of you and send them your way. You never know what a single connection can turn the business around.
I have two things to offer you today.
1. Business training to rock your business off its hinges and build a second income [Click Here]
2. Allow me to help you get started in a business that can shift your world to an extra $500-$1000 a month.  [Click Here]
Are you brave enough to be more than you see in yourself right now today?
I will be waiting for you.
More Ways to Connect With Our Free Training Resources:
Join Our Facebook Community
Follow Us on Instagram
Get News Updates from us on Twitter
Follow Us on LinkedIn
Access the Digital Training Vault
Recommend Training University Community
Let's get started today with your business
Recent Blog Post:
If you enjoyed what you read, from this free training page, please feel free to share, distribute, and post this content so your team can benefit from it too. All that we ask in return is that you attribute all content to Angela Brooks, and post a link back to our website at AngelaBrook.com/blog Thank you!
Facebook comments:
comments