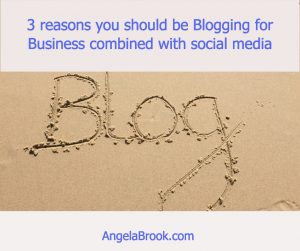 To blog or not to blog.
To influence or stay top secret.
Blogging combined with social media is a powerful way to promote your business but still, small business like yourself hesitate to jump on board and they are missing a big opportunity to stand out in the content marketing world.
Most people if they are honest with themselves don't want to make the commitment it takes to produce a successful blog. They are at a loss for words where to get the content and in the beginning, it can be challenging.
Finding who you are providing content for is another hold back because who wants to talk about one product all the time. Being original is quite the challenge when millions of pieces of content show up on the internet daily.
Target your Audience
Everyone is not your customer and you are not going to want to try to compete with a huge crowd. You are speaking to people like yourself who are already looking for the problems you are helping resolve.
Most of the people who come to me are nurses who are exhausted and want to move forward in something new or moms who are like I was looking for a way to keeps their kids out of daycare and work from home. Most people looking for a business are not looking for 6-figures they are looking to make enough to cover their car payment, pay for baseball uniforms or take trips with their family.
Boost your Blog Traffic
Combining social media like Facebook and Instagram to your marketing you are reaching more people and exposing your blog at the same time by sharing snips from your blog post to those platforms. You will be reaching people who are not going to naturally visit your blog but you are connected too and can direct them there. Using social media you are self-promoting what you do until other people start promoting your content for you.
Develop a Community
Your blog provides a place for people to talk to you and leave comments or share your post with someone the content could help. It is a place for someone to come learn more about you without you having to tell the whole story over and over again yourself.
Establish yourself as the go-to expert
Even though you may not be the one and all know it all, you can be an outstanding resource to help people. Blogging gives you a platform to speak to someone who is using the Google search engines to look up information. What people type in the search bar are called "keywords" that can be triggered in your post title or inside your content.
You are in a company with thousands of people with the same products, the same content, the same opportunity but people can't find you, you blend in with the crowd and no one can see you. If you are the one blogger in the crowd who provides the answer to a question someone is googling. They are more likely to do business with you than someone who doesn't have one.
What is A blog? It builds confidence, relationships, and sales. Customers will look to you as a reliable resource for information on your industry; then come to you to buy. Blogging sharpens your business focus. To create a blogging strategy you must define who you are blogging for and why.
Build your Personal Brand
A blog doesn't have to be boring! Bring your soft passionate personality or your bold and snarky personality to your blog. Your brand is all about you not your bottle of products. Your brand is how people connect with you. If you meet me in person you are going to see the same person as you read about here on the blog. A little snarky but a big heart.
I am me.
You need to be you.
Grow big
If you have realized you don't have a solid game plan for your business and you are ready to get things in order including a blog to leverage your business. Click here to take a 10-day trial in the university where you get step by step instructions to set your business up to actually make money.
I talk about the most powerful – and profitable! – places to find customers for your network marketing business today. Spend the next 45 minutes with me and let me show you three simple steps you are not using in your business.
SHARE this post – COMMENT let me hear from you – TAG your team!
More Ways to Connect With Angela
Follow me on Facebook
Kool pictures on Instagram
Opinions and Such on Twitter
Resume' on LinkedIn
Resources I use: Resource Link
Facebook comments:
comments