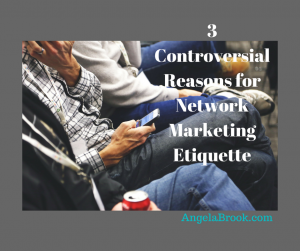 When you say "Network Marketing" most people cringe. It is not a perfect system, but it is far better than the working system if you really want to look at details. I am clearly not against jobs or people who work other money making avenues than network marketing because I retired in 2014 after working for 25 1/2 years as a nurse in mental health. 30 years as a nurse working for someone else it's clear I am not against jobs.
In fact, not everyone is meant to be in business. Ray Higdon said in one of his Facebook lives "If you think like an entrepreneur, you are a minority and to many, you are weird. (and that's OK)"
For the longest time, I really thought I was weird until I went to the business event and found there are other people like me who enjoy working on their business in dozens of different ways and just because I don't work my business like you doesn't mean it is wrong. It means it works for me – in the tune of 6-figures.
It is time to change the negative thinking towards network marketing
When people join network marketing, they lose their freaking minds. They become hunters of the visa card and a pulse on any human they come in contact with. It makes network marketing look desperate like a leech.
I always think about how I feel when I go in a store and someone is following me around "helping" me shop. For one I am not a shopper and I don't like someone suggesting clothes trying to make a sale. I like to look at how the clothes are presented on the wall and displayed on the racks.
It is the same as when someone is super excited about their products they start talking all weird about it being the best in the universe and all the great ingredients that no one can pronounce.
When I am shopping for clothes all I want to know is, do you have my size, does it shrink on the first wash, does it make me look awesome. I don't need to know the manufacture names or where they are located. I don't want to know how many are in stock, or if the sale ends in 5 minutes. I want to put on the clothes, look in the mirror and love what I see.
Your products are the same thing. Tell me how it is going to work for me, how it will help me after listening to what I need. I don't need the calorie count and the list of all the berries in the juice. Will it give me energy? Will the juice taste good? How can I get it at the cheapest price?
3 Controversial Reasons for Network Marketing Etiquette
Treat others how you want to be treated. Your job as a network marketer is to see if someone is OPEN, or has a NEED. We need to stop trying to shove our products in people's hand that will toss them in the closet as soon as you get out of site. Find the person who is looking for what you have. The others let go or provide them with another product you have to stay connected. It is really that simple. Learn to listen more than you talk, find what the need may be, ask questions, let them do most of the talking. No one listens anymore. If you want to impress someone listens to what they have to say instead of trying figure out what you are going to say next to get them to buy.
Don't mistreat people for saying no or try to tell them how they are missing out. Listen – present your offer to their needs you heard them mention, present the offer and see if they are open. If not…follow up at another time.
Get Training. I can not stress this enough. Network Marketing is the only industry that people join with zero knowledge in running a business and try to use their skills as an employee to build an empire. The mindset of an employee is very different than someone who has a business. You can shift! You need new skills. Invest in your knowledge, it is never ever wasted if you use that you learn. It is also a business deduction for your taxes.In so many situations it is the blind leading the blind and teaching their new team members to do the same. Most of the time those are the people who get all offended when you try to help them get skills to see results faster. I didn't become a nurse without training and follow-up training each year. As a nurse, you are always in learning mode as you should be in your network marketing business.
Bonus: When you have an appointment to speak to someone for a presentation be on time. No excuses. Be professional but not weird. Honor the time they have set for you to speak with them. Then listen –
Be the Best Network Marketer
To change the industry it has to start with me and you. We have to be the best influencers, the best teachers, the best examples, the best listeners, the best supporters. Be the one who shows others you are not after what they can buy from you but are really awesome person.
In exchange, people will want what you have, they will work hard as a team member, they will hear what you say because they are watching what you are doing. We have a better way, but we have to show people before they will hear our message.
Are we even Friends yet?
If we aren't friends on Facebook, don't you think we should be?
Yep – I do.
Click here to add me as a friend – THEN – send me a message and tell me, hello and you found me because of my blog. That makes me super happy. I don't add anyone that won't say hello in a message. Just a good rule of thumb for social media and relationship building because I won't let someone in my house if they wouldn't talk to me at the front door.
Thank you for reading all the way to the bottom of the post. I don't have the answer to every marketing question you have but I do have some pretty awesome ideas that could help you. Signing up is so easy – just click to enter your email – and I promise not to send you dumb stuff that will waste your time.
Let's work together to help you create a more profitable business. That's my goal for every single person that subscribes. If don't have a business let's see if what I have will work for you – if not – I have a new friend.
SHARE – COMMENT – LIKE  this post!
More Ways to Connect With Our Free Training Resources:
Join Our Facebook Community
Follow Us on Instagram
Get News Updates from us on Twitter
Follow Us on LinkedIn
Access the Digital Training Vault
Recommend Business Training Mastery Community
My recommended Essential Oils
If you enjoyed what you read, from this free training page, please feel free to share, distribute, and post this content so your team can benefit from it too. All that we ask in return is that you attribute all content to Angela Brooks, and post a link back to our website at AngelaBrook.com/blog Thank you!
Facebook comments:
comments