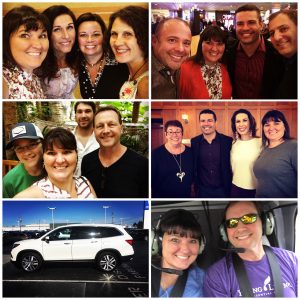 This year has flown by and it is time to look back over the 2017 Year End Review to see all the amazing things that happened in my business this year. Scrolling through a year's worth of pictures on my phone really set me back at how much was accomplished.
We started January off with my son having surgery on his pitching shoulder after years of throwing a fastball it was worn out and we had no idea what the outcome would be. Fast forward 12 months later he is back on the mound in the spring and ready to pitch.
After being in business for 7 years my team held it's first in-person workshop and had amazing results. We closed half the room with new customers that day and added the remaining room by the end of the week. That set us on a path to hosting not one but three more workshops in 2017.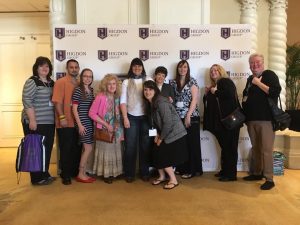 I was super excited to meet nine of my business partners in Orlando Flordia for the very first time at the personal branding and marketing boot camp with the Higdon Group. Where I have presented an amazing award from Ray Higdon himself on stage. I was honored and shocked to be given such recognition.
After several years of watching Go Pro Mastery with Eric Worre online at home. In 2016 I decided to experience it for myself in person. Tony Robbins took the stage with Pitbull and many other top earners in the network marketing space.
My husband and I experienced Vegas like we never had before by taking a Grand Canyon Helicopter Tours and what an amazing ride it is to see how huge the canyons really are in person.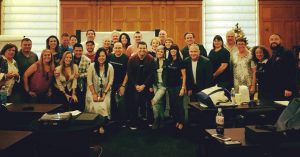 Two weeks after we got home we headed down to Tampa Florida to spend 4 days with my mastermind retreat people from around the world. To be in the same room studying alongside the top earners in the network marketing profession is purely amazing.
Professionals like Ray Higdon, Larry and Taylor Thompson, Jeff Altgilbers, Austin Zulauf, who are all willing to help with any questions you have to build your business and get out of your own way.
Learning how to share your story, be you and be a leader takes time and consistent education to get you moving. Spending time with people who are on the same path as you make a big shift happen in your brain. You stop saying the negative words and move toward the things you are good at. Every single person in the room has a fear, lacks confidence in something. No matter what level you reach there will always be something to challenge you.
The friends you meet.
The things you learn.
The fear you grow past.
The belief that begins to grow.
The seeds you plant.
The hurtles you cross.
The person you become is apart of the business.
In the beginning, everyone thinks it is the box they paid for to get the opportunity they started.
It is actually in the person who is willing to grow and shift to be more than they ever thought they could be. Yes, the products are good – great – even amazing, but the journey is so priceless if you are willing to put in the work to grow you along the way.
The beginning of leadership is leading you. When you have the ability to lead yourself to build the daily habits it takes to lead a business, and the habits it takes to grow the results for others to see. Most people (I included at one time) was really good at being employed by other people but do you have the ability to employ yourself.
Network Marketing is the only place where you have to build the muscle to build a business. It is low risk – high reward – incredible potential for leverage. Does everyone win? No. Neither do they in other business either. Those that choose to grow their networks, improve their productivity those are the ones who win big time.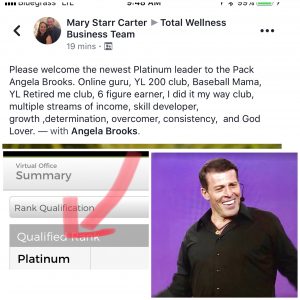 There will ALWAYS be a reason to quit, but if your dream is strong enough there will always be a reason to stay and push through. Maybe it is because you know that your products or your service will be changing people's lives or rescuing people from really desperate lives.
I don't want to just play the game of network marketing. I want to master the game. When I do what it takes to grow as a person and my business grows that means that people's lives are changing.
As you can see it has been an amazing 2017. Seeds are planted for 2018 to grow even more. I am honored to have reached the platinum rank in my company and working toward my diamond-ship. It is not all about the money, in order for me to grow to each rank like a tree planted, there are people under me growing. That is how trees stand tall, provide shade sending deep roots to the next generation.
I am looking for people who are ready. Who sees even a small light for their future to be bigger and better than it is today. I want to work alongside those people to teach them how to grow into an oak tree for their next generation of people.
To attract, engage and sell effectively. Grow your home business via the internet to create real financial freedom… Without alienating your friends and family, being marked as a spammer or scammer, or worse actually getting your social media accounts shut down! Come join me as I share how this is done on a free webinar [Click here]
SHARE this post – COMMENT let me hear from you – TAG your team!
More Ways to Connect With Angela
Follow me on Facebook
Kool pictures on Instagram
Opinions and Such on Twitter
Facebook comments:
comments