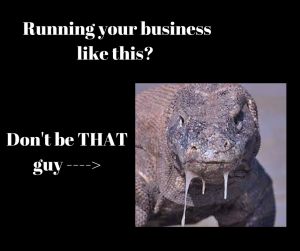 I've heard it all. Every possible excuse ranging from…
"It's way too complicated."
"I work a full-time job."
"I have kids."
"My husband won't let me."
"I simply don't have the time."
…anything to explain why you still don't have a blog. And believe me, I get it.
We're all strapped for time. But guess what? Starting a blog is easier than you think. And SO worth it!
I look at the opportunities my blog has helped create – radio interviews, nursing magazine interviews, podcast, being on the success panel at Ray Higdon's event, I have shared the stage with Gary Vaynerchuk, Kim Garst, Sandi Krakowski, Jimmy Nelson, Nadia & John Melton, Bob Heilig, Ray Higdon and a few other rockstars.
And the beautiful thing? A blog can do this for YOU too.
You see, a blog has this amazing power to position you as the industry leader. As the go-to for your particular niche. It is a home for all your content and social links so people can find all your goodness in one place. It is the place I started because I was working on a low budget – not a no budget.
Looking for more leads? Want to connect with the right people? Need to expand into a bigger market? A blog can do that! You don't have to chase people down and beg them to buy your stuff. Stop looking like the know-it-all-breathing-dragon.
If you've wanted to start a blog, but haven't known where to begin
– I have something solution for you.
Today I want to share with you a community and an opportunity to hang out a little closer to me in a group where you can stop feeling like you are bumping into the wall.
Believe me, once you watch it, you'll realize that all your worries (and those excuses) were for nothing. You'll see how simple it is to get up and running in a matter of minutes.
People look at a blog as if it was something only "big people" can do. Nope it for folks just like you who need leverage in their business.
Did you know you can make money from multiple streams on your blog?
Affiliate programs to your blog – yes more than one meaning multiple streams of income
Become an affiliate of products you USE and have gotten results with. Don't promote things just to be trying to make a dollar. Share what works. You don't have to know it all – be able to send people to training that will help them without trying to be the all for one person. You can't be – or I should say you can't for long. You will burn out.
You can join a community that has training and all you have to do is the point to the training? In return, it pays your fees to be in the community.
Offer to coach or consulting on your blog. Once you have gotten results from your business, people want to know how you did it. Package up your skills and offer them to people on your blog via zoom, skype, email.
Multiple streams of income….Drop-ship someone else's products Selling products on your site can be lucrative, however, it can also be A LOT of work. You have to deal with inventory, shipping and customer service, all of which take up a lot of time and resources.A great alternative is drop shipping.Here's how it works: You enter into a partnership (Young Living) with a wholesaler or manufacturer, who will handle all the shipping (essential rewards and customers) and fulfillment of the products. In fact, you never even see the product! (and they pay you for the customers you send to their service – called commissions)
Create and sell your own digital products. Yes — sell your knowledge. You don't have to give everything you know away. Set it up on your blog.
Book Reviews – links to amazon affiliates
Event promotions that you are an affiliate of.
Write a blog post, send an email to your list
Teach how you are working your business. People think if they tell their deep dark secrets it will be giving away their money pot. People barely do any of the suggestions you give them. I have given details in my book MLM Secrets and in 5 hours of training in the "Top 5 ways to Standout in your Marketing" and people still, are not finding success. Keep teaching.
More Ways to Connect With Our Free Training Resources:
Join Our Facebook Community
Follow Us on Instagram
Watch More Training Videos in the hub
Get News Updates from us on Twitter
Follow Us on LinkedIn
Recommend Training University Community
Recent Blog Post:
If you enjoyed what you read, from this free training page, please feel free to share, distribute, and post this content so your team can benefit from it too. All that we ask in return is that you attribute all content to Angela Brooks, and post a link back to our website at AngelaBrook.com/blog Thank you!
Facebook comments:
comments